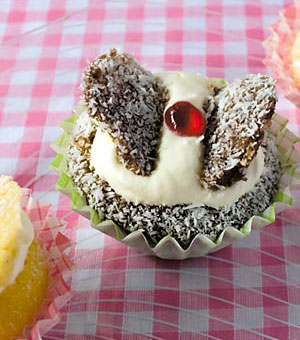 This recipe comes from my book:
Ladies a Plate
If you would like more recipes like it, you can buy the book at the bookshop
Switch to Metric
Switch to Imperial
Ingredients
For the Cakes
115 g butter
115 g caster sugar
2 eggs
1 tsp vanilla essence
170 g flour
1 tsp baking powder
pinch salt
2 tbsp warm milk
To Finish
150 ml cream
3 tbsp red jam or jelly
Creamy Vanilla Icing for Chocolate Butterfly Cakes
115 g butter
225 g icing sugar
½ tsp vanilla essence
4 tbsp milk or water
Lamington Syrup
500 ml water
55 g butter
450 g caster sugar
55 g cocoa
For the Cakes
4 oz butter
4 oz caster sugar
2 eggs
1 tsp vanilla essence
6 oz flour
1 tsp baking powder
pinch salt
2 tbsp warm milk
To Finish
¼ pint cream
3 tbsp red jam or jelly
Creamy Vanilla Icing for Chocolate Butterfly Cakes
4 oz butter
8 oz icing sugar
½ tsp vanilla essence
4 tbsp milk or water
Lamington Syrup
1 pint water
2 oz butter
1 lb caster sugar
2 oz cocoa
Butterfly Cakes
As a young home baker, these were my idea of baking perfection: so pretty, so sweet, so enjoyably fiddly to make and so guaranteed to attract compliments. Chocolate Butterfly Cakes, with piped butter icing, became my specialty but I now prefer the plainer vanilla version, with wings perched on a dollop of whipped cream and a little flavoursome jam. A 'Lamington' version of a Butterfly Cake is also a crowd pleaser. Try to find proper shallow patty pans, which are more traditional than deep muffin tins, and you'll need paper cases the same size. I believe in making them quite small - a mouthful or two is just the thing.
Getting ready
Preheat the oven to 350 °F/180 °C and put paper cases in 24 ordinary-sized patty pans, or about 48 mini patty pans. (Don't put paper cases on a flat baking tray or they will collapse outwards.) Soften the butter and have the eggs at room temperature. Sift together the flour, baking powder, salt - and cocoa if you are making the chocolate cakes.
Mixing and baking
Cream the butter and sugar very well and beat in the eggs, one at a time, followed by the vanilla essence.
Stir in the sifted dry ingredients and add a little warm milk if necessary to make a soft, dropping consistency.
Spoon or pipe the mixture into the paper cases. They should be about ¾ full.
Bake for 10–12 minutes, rotating after five minutes.
Cool on a wire rack.
Finishing
Cut a small, shallow cone out of the top of each cake with a sharp knife, using a sawing motion. Turn each cone upside down on a board, cut it in half and keep the halves beside the cake they came from.
Put a small dab of jam in each hollow and top with whipped cream. Now place the little halves, baked sides up, carefully at an angle in the cream to make the wings.
Put a little more jam - or a tiny square of pink Turkish Delight, or a strip of candied peel - between the wings and dust with icing sugar. Makes 24 ordinary-sized or 48 tiny Butterfly Cakes.
For Chocolate Butterfly Cakes
Replace 2 oz/55 g of the flour with cocoa and bake as above.
Combine the icing ingredients and beat till smooth.
Spread the icing in the hollows, and place the wings at an angle.
Put the rest of the icing into a forcing bag with a star nozzle and pipe stars of icing between the wings.
Dust with icing sugar.
For Lamington Butterfly cakes
Make the Lamington Syrup. Bring everything to the boil, stirring and then leave to cool before using. (This makes a lot, but it keeps well in a jar in the fridge.)
Make the vanilla cakes as above and remove them from their paper cases.
Roll them in Lamington Syrup and then in coconut.
Once the icing has firmed, continue as for vanilla butterfly cakes and put them into fresh paper cases for serving.