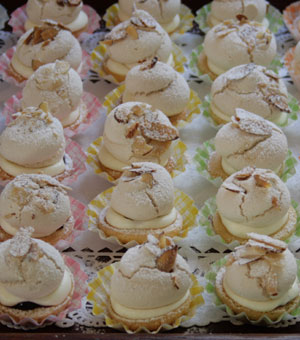 Switch to Metric
Switch to Imperial
Ingredients
For the Sponge Drops
1 egg
1 egg yolk
1 tsp cold water
85 g flour
85 g caster sugar
1/2 tsp baking powder
For the Meringue Tops
1 egg white
1 tsp cold water
200 g caster sugar
2 tbsp flaked almonds
For the Filling
4 tbsp jam or lemon honey
250 ml cream
For the Sponge Drops
1 egg
1 egg yolk
1 tsp cold water
3 oz flour
3 oz caster sugar
1/2 tsp baking powder
For the Meringue Tops
1 egg white
1 tsp cold water
1 cup caster sugar
2 tbsp flaked almonds
For the Filling
4 tbsp jam or lemon honey
1 cup cream
French Bonbons
I found this recipe in a 1945 Women's Institutes Home Cookery book. No doubt the French name was intended to give them an exotic appeal, but they are not extravagant with ingredients and they certainly are delicious. The idea is to make a batch of little sponge cakes using an egg and an egg yolk, and then some small meringues with the egg white. You can store them in airtight containers until you need them, then sandwich them in pairs with jam or lemon honey and whipped cream, and serve in little paper cases, meringue side up. I sprinkled some flaked almonds on the meringues which added a nice crunch.
Getting ready
Preheat the oven to 400º F / 200º C and line two baking trays with baking paper or grease them lightly.
Bring the eggs to room temperature. (The quickest way to do this if they are in the fridge is to put them in a bowl, and cover them with hot water from the tap, and leave them for 10 minutes.)
Sift together the flour and baking powder.
Mixing and baking the sponge drops
Put the whole egg, the egg yolk and the cold water into a bowl with the caster sugar and beat them with an electric beater for at least 5 minutes until they are pale yellow and fluffy. The mixture should fall in ribbons from the beaters and remain on the surface for a few seconds before sinking.
Sift the dry ingredients onto the egg mixture and fold through carefully using a metal spoon.
Drop the mixture in very small circular spoonfuls onto the prepared trays, trying to keep them all the same size. You could also use a forcing bag with a ½ inch / 1 cm plain nozzle and pipe out tiny mounds.
Bake for 5-6 minutes until just golden. Leave on the tray for a few minutes before removing to a cooling rack. Store airtight until you need them.
Mixing and baking the meringue tops
Line two baking trays with baking paper or grease them lightly. Allow the oven temperature to reduce to 300º F / 150º C.
Beat the egg white with the cold water until stiff peaks form, and then beat in the caster sugar a spoonful at a time. Keep beating until you have a stiff and glossy meringue.
Put the mixture in small spoonfuls on the prepared trays, trying to keep them all the same size - or use a forcing bag, as for the sponge drops.
Distribute the flaked almonds over the top of the meringues - just a few on each.
Bake for about an hour until the meringues are quite firm through and the almonds are a lovely golden brown. Cool on a wire rack and store airtight until you need them.
Finishing
An hour before you intend to serve the Bonbons, set out some paper cases on a flat serving plate - a pavlova plate works well.
Put a sponge drop into each case, top side down. Put a small spoonful of jam or lemon honey onto each, and follow with a more generous spoonful of unsweetened whipped cream. Balance a meringue on top of each and dust them with icing sugar.
Makes about 36 Bonbons.