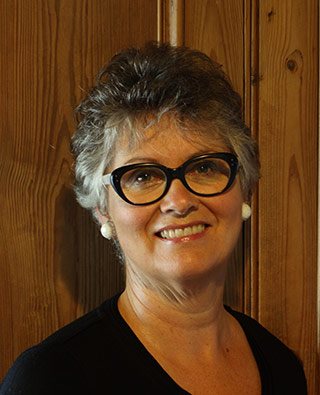 Alexa Johnston
Like many home cooks, Alexa Johnston learned to bake from her mother. Paula Johnston was a busy school teacher and minister's wife, but through her patient and smiling encouragement of Alexa's early – and sometimes disastrous – kitchen experiments she created an enthusiastic and confident cook. As a teenager Alexa graduated to cooking meals for the family but baking has always been her first love, and for many years her friends have enjoyed her delicious cakes, biscuits, slices and preserves and have relied on her to provide them with failsafe, tested recipes.
Alexa's interest in old-fashioned recipes began with Paula's copies of the New Zealand Women's Institutes Home Cookery Book and the League of Mothers Cookery Book, as well as a number of church fundraising cookbooks. She has gradually built up a large collection of community recipe books which she sees as a window into the kitchens of accomplished home bakers of the past.
By comparing and testing many versions of favourite recipes she arrived at a collection of baking classics – Ladies, a Plate: Traditional home baking (Penguin, 2008). This book became an instant bestseller and has been reprinted several times. The title reflects a time when invitations to community social occasions in New Zealand generally bore the words 'Ladies, a plate' – a signal to the women guests to bring a contribution to a shared repast. Alexa noted: 'By embarking on baking we link into an honourable tradition that stretches back to our grandmothers and great-grandmothers and great-great grandmothers who filled countless plates with tempting treats for afternoon teas and suppers all across the land.'
The book helped stimulate a revival of New Zealand home baking and in response to reader requests she wrote a sequel. A Second Helping: More from Ladies, a Plate (Penguin, 2009) contains more failsafe recipes for classic home baking, from both Antipodean and European traditions, presented with clear instructions for novices, or experienced bakers. For both her cookbooks Alexa Johnston made all the recipes – and took all the photographs – in her home kitchen in Auckland.
Baking is Alexa's hobby and she remains a home cook, not a culinary professional. Her training was in Art History in which she completed a master's degree at the University of Auckland. She then spent nineteen years as a curator at Auckland Art Gallery Toi o Tamaki and was Principal Curator from 1990 until 1997. She is now a freelance writer and curator and in 2002 was curator of the exhibition Sir Edmund Hillary: Everest and Beyond for Auckland War Memorial Museum. Her authorised, illustrated biography, Sir Edmund Hillary: An Extraordinary Life was published by Penguin in 2005. It was short listed in the biography section of the 2006 Montana New Zealand Book Awards, is now available in paperback and has been translated into German and Spanish.
In 2009 Dunedin Public Art Gallery published her book 'Frances Hodgkins: Femme du Monde', about the works of Frances Hodgkins held in Dunedin's public collections. Her third cook book 'What's for Pudding?' was published in 2011 and 'Ladies, a Plate: Jams and Preserves' will be available in September 2013.