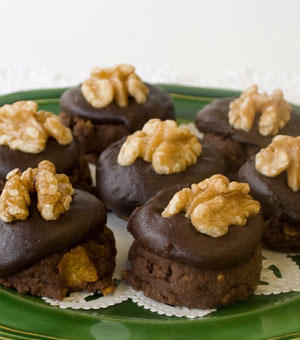 This recipe comes from my book:
Ladies a Plate
If you would like more recipes like it, you can buy the book at the bookshop
Switch to Metric
Switch to Imperial
Ingredients
For the Biscuits
170 g butter
100 g brown sugar
180 g flour
3 tbsp cocoa
½ tsp baking powder
60 g cornflakes
For the Icing
3 tbsp water
45 g caster sugar
45 g butter
190 g icing sugar
3 tbsp cocoa
24–30 walnut halves
For the Biscuits
6 oz butter
½ cup brown sugar
1½ cups flour
3 tbsp cocoa
½ tsp baking powder
2 cups cornflakes
For the Icing
3 tbsp water
3 tbsp caster sugar
3 tbsp butter
1½ cups icing sugar
3 tbsp cocoa
24–30 walnut halves
Afghans
Very chocolaty, firm rather than crisp, with a slight cornflake crunch and crowned by a pale half-walnut pressed into a shiny cushion of chocolate icing - Afghans have got it all. Cornflakes were popular in New Zealand by the 1910s and are found in many homely recipes since thrifty housekeepers did not dash out to buy special ingredients for their family baking, they relied on using what was at hand. By the 1940s Afghans were in many community cook books and they have opened the biscuit section of the Edmonds Cookery Book since its 7th edition in 1953: a firm guarantee of a place in the affections of the nation. This version comes from Mrs Marian Benton of Dunedin. Her Afghans differ from the standard recipe in having less butter, more cocoa and a small amount of baking powder to make them a little less solid. The delicious icing was developed by Lois Daish, another great cook.
Getting ready
Preheat the oven to 350°F/180°C and line two baking trays with baking paper, or grease them lightly with butter. Break up the cornflakes with your hands and soften the butter.
Mixing and baking
Cream the butter and sugar until the mixture is pale and fluffy. Add the sifted dry ingredients, then knead in the cornflakes.
Put in teaspoonfuls on the trays, leaving a little space around each biscuit. Flatten them slightly with a fork and bake for 12–14 minutes.
Cool on a rack.
Finishing
Gently heat the water, caster sugar and butter until the butter melts and simmer for one minute to form a syrup.
Beating all the time, pour about ¾ of the syrup onto the sifted icing sugar and cocoa. Add the remaining syrup if necessary to make a smooth, fudgy icing. Add a little hot water if it's still too thick.
Put a teaspoonful of warm icing on each biscuit, plant a walnut half on the top of each, sinking it into the icing, and leave to set firmly.
Store in an airtight tin. They'll stay fresh for 3–4 days. Makes 24–30 smallish biscuits.