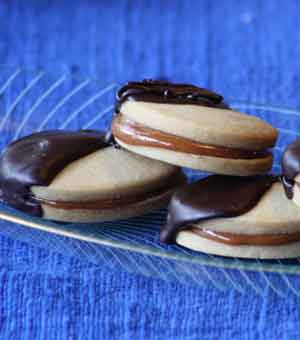 Switch to Metric
Switch to Imperial
Ingredients
For the Shortbread
225 g butter
55 g icing sugar
2 tbsp cornflour
340 g flour
½ tsp cinnamon
For the Dulce de Leche Filling
395 g tin sweetened condensed milk
½ tsp salt
For the Topping
For the Shortbread
8 oz butter
2 oz icing sugar
12 oz flour
2 tbsp cornflour
½ tsp cinnamon
For the Dulce de Leche Filling
14 oz tin sweetened condensed milk
½ tsp salt
For the Topping
Alfajores
Most Latin American countries have a version of these cinnamon-scented. caramel-filled shortbread biscuits. They can be half-dipped in chocolate, or edge-rolled in coconut, or just sprinkled with icing sugar, but if you are making them for Easter, I suggest the chocolate version. The biscuit is based on Paula's Shortbread in 'Ladies, a Plate', with the sugar reduced by half to allow for the sweet, rich filling of caramelised, sweetened condensed milk known as Dulce de Leche. You can buy this in jars or tins, but if you decide to make it yourself, you should do it the day before you make the biscuits as it takes several hours. (And be prepared for a sticky eating session, since although the chocolate and shortbread are firm, the filling is definitely squishy.)
Getting ready
Make the Dulce de Leche filling by putting the unopened tin of sweetened condensed milk into a large saucepan and covering it with water. Bring gradually to a simmer and cook for 3½ hours. Turn off the heat and allow the tin to cool completely in the water before opening it. Open the tin, put the caramel into a bowl and mix through the salt. Store in the fridge.
Mixing and baking
Combine all the ingredients for the shortbread in a food processor and pulse until it forms large crumbs.
Tip the crumbs out onto the bench and knead them together into a firm mass.
Form the dough into two discs, wrap in waxed paper and refrigerate for 20 minutes.
Roll out the dough on a lightly floured board, rolling from the centre to the edges. Keep turning the dough as you work to ensure that it doesn't stick to the board. It should be about 5mm thick. Cut into small circles or egg shapes and put - on oven trays lined with baking paper. Refrigerate the trays for 15 minutes to firm the dough.
Preheat the oven to 350ºF / 180ºC and bake the shortbread for 20 minutes until it is light golden. Cool on a wire rack.
Tempering the chocolate
To ensure that the chocolate on your biscuits sets firmly and has a good shiny finish you need to temper it. This means heating the chocolate to melt it, then cooling it until it thickens and then re-heating it very gently. If you have a thermometer the temperatures are: Melt to 115ºF / 45ºC; Cool to 75ºF / 24ºC; Warm again to 90ºF / 33ºC. This is my method:
Chop the chocolate into chunks and put it into a metal pan over a saucepan of water which you have brought to the boil, then removed from the heat. Stir until it melts. (Don't let the bowl touch the water.)
Remove the bowl from the saucepan and rest it on a cloth on the bench for about 20 minutes, stirring occasionally, until the chocolate begins to be very thick.
Place the bowl over the warm water again and stir for about a minute until the chocolate becomes liquid. Remove from the heat. It is now ready for use, but if it becomes too thick as you use it, place the bowl over the water again for just a few seconds.
Finishing the biscuits
Sandwich the biscuits in pairs with the Dulce de Leche. Hold them carefully over the bowl of chocolate and spoon it over one half of each biscuit. Put them gently onto baking paper and leave them to set. Store airtight. Makes about 18 filled biscuits.