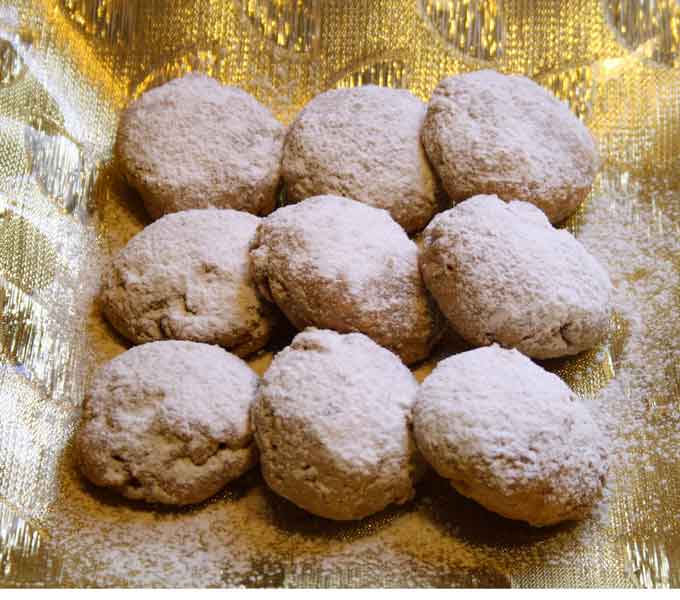 Switch to Metric
Switch to Imperial
Ingredients
115 g caster sugar
85 ml water
2 tsp aniseeds
1 tsp cinnamon
¼ tsp ground cloves
2 tsp ground coriander
115 g walnuts
55 g candied peel
200 g flour
2 tbsp honey
1 tsp baking powder
½ tsp baking soda
4 oz caster sugar
1/3 cup water
2 tsp aniseeds
1 tsp cinnamon
¼ tsp ground cloves
2 tsp ground coriander
4 oz walnuts
55 g candied peel
7 oz flour
2 tbsp honey
1 tsp baking powder
½ tsp baking soda
Cavallucci
Siennese Panforte is deservedly famous, but here is another specialty from the same town. Cavallucci have been made in Siena since at least the 16th century – dryish anise-flavoured biscuits enriched with toasted walnuts and candied peel. The name means 'little horses' and there is debate over whether that is because they were given to stable hands, or because their hard-wearing quality meant they were suitable for travellers on horseback. Try them with coffee or sweet wine – and don't worry about the horses.
Getting ready
Preheat the oven to 350ºF / 180ºC and line a baking tray with baking paper.
Put the walnuts onto an oven tray and put them in the heating oven for about 10 minutes so they are lightly toasted, then chop them.
Put all the spices into a spice grinder and pulse quickly to combine them, or crush the aniseeds lightly with a mortar and pestle and combine with the other spices.
Sift together the flour, baking powder and baking soda and make a well in the centre.
Making the biscuits
Put the sugar and water in a small saucepan and stir over a low heat until the sugar dissolves. Bring to the boil and simmer gently for 1 minute.
Tip in the mixed spices and simmer for 30 seconds
Add the peel and walnuts and simmer another 30 seconds.
Remove the pan from the heat, add the honey and stir until the honey is melted.
Tip this mixture into the flour and mix with a wooden spoon to combine well.
Form the mixture into walnut-sized balls, place them on the prepared baking tray and flatten slightly.
Bake for 10-15 minutes until lightly browned and firm on the base.
Cool on a rack, then dust with icing sugar. Stored airtight, they will keep for 2-3 months. Makes about 30.