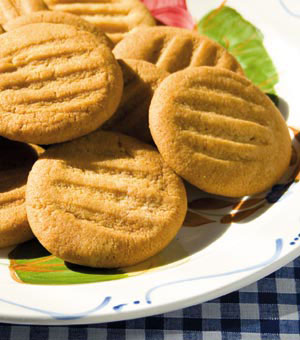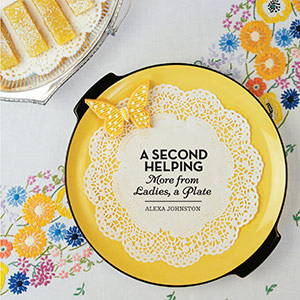 This recipe comes from my book:
A Second Helping
If you would like more recipes like it, you can buy the book at the bookshop
Switch to Metric
Switch to Imperial
Ingredients
115 g butter
115 g sugar
1 tbsp milk
2 tsp golden syrup
1 tsp baking soda
½ tsp vanilla essence
170 g flour
4 oz butter
4 oz sugar
1 tbsp milk
2 tsp golden syrup
1 tsp baking soda
½ tsp vanilla essence
1 cup* flour
Hokey Pokey Biscuits
Not quite as toothachingly sweet as the honeycomb toffee they are named after, these crisp biscuits do have the slight fizz on the tongue created by baking soda combined with golden syrup. They are light and pleasant and undemanding and with the addition of some chopped chocolate – my sister Fiona's inspired embellishment – they are very hard to resist. I've given the traditional recipe here, but add ¾ cup of chocolate chips at the end if you wish.
Getting ready
Preheat the oven to 350°F/180°C. Line two baking trays with baking paper or grease them lightly. Bring the butter to room temperature and sift the flour.
Mixing and baking
Cream the butter and sugar until soft and light. Put the milk and golden syrup in a small saucepan and bring to the boil over a medium heat. Add the baking soda and stir quickly with a wooden spoon. The mixture will curdle, but don't worry. Keep stirring until it froths up and then pour it onto the butter and sugar and mix well.
Add the vanilla followed by the flour (and the chocolate chips if you are using them).
Place teaspoonfuls on the trays, allowing room for spreading, and flatten them slightly with a fork. Bake for 10–15 minutes until golden brown. Cool on a rack and store airtight. Makes about 24.