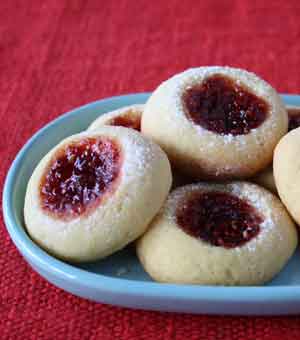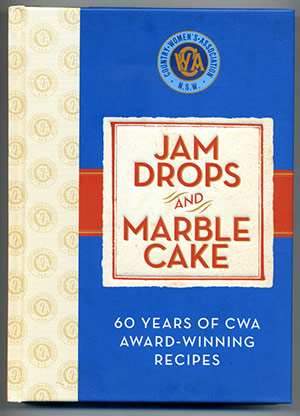 Switch to Metric
Switch to Imperial
Ingredients
110 g sugar
1 egg
125 g butter
1 tsp vanilla essence
225 g self-raising flour
pinch of salt
3 tbsp raspberry and/or strawberry jam
4 oz sugar
1 egg
4 1/2 oz butter
1 tsp vanilla essence
8 oz self-raising flour
pinch of salt
3 tbsp raspberry and/or strawberry jam
Jam Drops
Biscuits can't get much simpler than this - a vanilla-flavoured dough with a spot of good red jam on top which cooks to a delightfully chewy firmness. The recipe comes from 'Jam Drops and Marble Cake', compiled by the Country Women's Association of New South Wales and containing '60 years of CWA award-winning recipes'. In retrospect, I'm surprised that I didn't include a recipe for these in either of the 'Ladies, a Plate' baking books. So to remedy that omission, here they are - and a better way of celebrating the deliciousness of your Raspberry and Strawberry Jam is hard to imagine.
Getting ready
Preheat the oven to 325°F / 160°C. Line two baking trays with baking paper. Cut the butter into small lumps and bring it to room temperature.
Mixing and baking
Put the sugar and egg into a food processor and process until well mixed. Drop in the softened butter a few lumps at a time, with the processor running and then add the vanilla essence.
Remove the processor lid, scrape down the sides and then tip in the flour and salt. Process just until the mixture forms a soft dough.
Use a dessert spoon to divide the dough into about 30 walnut-sized lumps then roll them into neat balls and place on the baking trays allowing a little room for spreading.
Use a 1/4 tsp measuring spoon to press a neat round indentation into the top of each biscuit. (Wetting the spoon discourages it from sticking to the dough.)You could use your finger, but the spoon method gives a very neat look. Spoon a little jam into each indentation, but don't overfill them or the jam will bubble out.
Bake the biscuits for about 20 minutes, rotating the trays half-way through. The low temperature ensures that they don't brown too much. When they are cooked, cool them on a wire rack. Dust with icing sugar and store airtight.