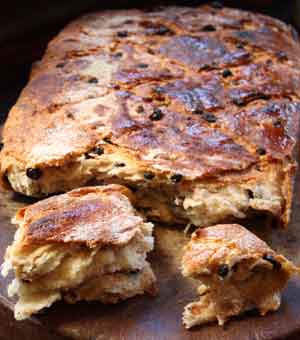 Switch to Metric
Switch to Imperial
Ingredients
For the dough
300 ml warm water
½ tsp caster sugar
1 tsp dried yeast
450 g strong white flour
1½ tsp salt
1 tbsp lard
For the filling
115 g lard
115 g caster sugar
1 tsp mixed spice or cinnamon
85 g currants
Extra caster sugar for sprinkling
For the dough
½ pint warm water
½ tsp caster sugar
1 tsp dried yeast
1 lb strong white flour
1½ tsp salt
1 tbsp lard
For the filling
4 oz lard
4 oz caster sugar
1 tsp mixed spice or cinnamon
3 oz currants
Extra caster sugar for sprinkling
Lardy Cake
I made a Lardy Cake for a friend, Jimmy Wright, who hadn't tasted it since he left Southampton as a young man almost sixty years ago. To my great relief he assured me that it was just as he remembered it. Elizabeth David considered this sweetened, spicy bread particularly delightful, but suggested that it be taken in moderation, so although we enjoyed our portions very much we were pleased when Jimmy departed with a very happy smile, and the rest of the cake. Temptation removed. If you bake this treat, make sure you have plenty of people over to help you eat it, preferably while it is still warm - the way Jimmy remembers it - fresh from the oven and eaten on the way to school. There are many regional variations of Lardy Cake, but the basic idea is to sweeten and enrich a bread dough with sugar, spice, currants and lard. It is important that the lard you use is fresh - a good butcher should be able to supply you with some. At the end of the recipe you'll see my suggested timing for making Lardy Cake - a quick mix in the evening, overnight rising and you'll be eating it a couple of hours after you get up.
Making the dough
Dissolve the caster sugar in the warm water, sprinkle over the yeast and set aside for 10 minutes.
Sift the flour and salt into a large mixing bowl, rub in the lard with your fingertips and then pour in the water and yeast.
Mix everything together with a wooden spoon and then your hands until you have a firm dough. Add a little more warm water if you need to.
Knead the dough on a floured board until it is smooth and springy and not sticky.
Put in an oiled bowl, turn it over to make sure all the surfaces are oiled, cover with a cloth and set aside to rise. This will happen in about 60 minutes in a warm place, or you can do as I do and leave it at room temperature overnight.
Making the Lardy Cake
Grease an 8 x 10 in / 20 x 25 cm baking tin - with lard of course.
Turn the risen dough out onto a floured board and knead it until it is smooth.
Roll it out into a rectangle about ¼ in / 7mm thick, and cover it with small flakes of lard followed by caster sugar, spice and currants - use half of the filling ingredients.
Roll the dough up into a fairly loose roll, and press it out a little with a rolling pin. The dough will be quite springy and resistant to being flattened, so cover it with a cloth and leave it for 5-10 minutes to relax.
Repeat the process - roll out the dough, cover it with the remainder of the filling ingredients, roll it up, press lightly, cover and leave to relax for another 5-10 minutes.
Now press it out again, roll it up without any filling, flatten it a little and put it into the prepared tin. Press it firmly into the corners with your fingers, cover it with a cloth and leave in a warm place for 1 hour until puffy and doubled.
Meanwhile preheat the oven to 425ºF / 225ºC.
Brush the top of the dough with melted lard or oil, sprinkle fairly thickly with the extra caster sugar and score the top in a criss-cross pattern with a sharp knife.
Bake for about 30 minutes until the bread is a good dark golden brown.
Turn out onto a rack to cool a little, before tearing it into pieces and eating it while it is still warm. (Lardy Cake should never be cut with a knife, as Jimmy says, 'It's a rip-off!')
Suggested timing
Make the dough in the evening and leave to rise on the bench overnight.
In the morning rolling, filling and second rise will take about 2 hours.
Baking 30 minutes.
Eat while warm at about 11am - with coffee.