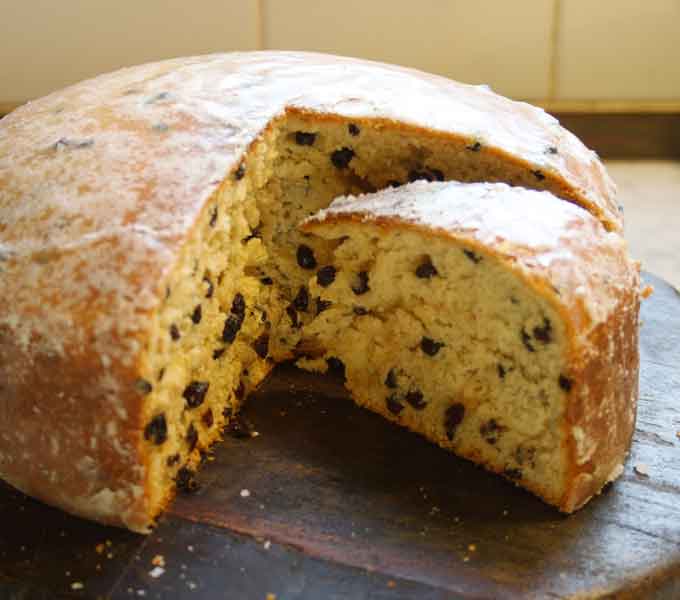 Switch to Metric
Switch to Imperial
Ingredients
1 kg flour
115 g caster sugar
2 tsp salt
3 tsp dried yeast
2 tbsp warm water
150 ml cream
420 ml milk
170 g ground almonds
2 tbsp rose water
340 g currants
85 ml sherry
3 eggs
225 g butter
3 tsp mixed spices*
For the glaze
180 g icing sugar
2 tbsp rose water
* I used half of a nutmeg, freshly grated, with some ground cinnamon, allspice, ginger, mace and a pinch of cloves.
2¼ lb flour
4 oz caster sugar
2 tsp salt
3 tsp dried yeast
2 tbsp warm water
¼ pint cream
¾ pint milk
6 oz ground almonds
2 tbsp rose water
¾ lb currants
3 fl oz sherry
3 eggs
½ lb butter
3 tsp mixed spices*
For the glaze
1½ cups icing sugar
2 tbsp rose water
* I used half of a nutmeg, freshly grated, with some ground cinnamon, allspice, ginger, mace and a pinch of cloves.
The Countess of Kent's Spice Cake, 1653
In 'English Bread and Yeast Cookery' Elizabeth David described this as one of her favourite fruit breads, a very old recipe which produces a tempting cake/bread of 'unexpected finesse.' It is a modest but delicious English alternative to Italian and European festive breads like Panetone and Stollen. Before the invention of baking powder in the mid-nineteenth century, fruit cakes were usually leavened with yeast and were simpler and less rich than the cakes we think of as traditional today. This cake is from 'A True Gentlewoman's Delight' by Elizabeth Grey, the Countess of Kent, first published in 1653. The recipe makes two large light-coloured spicy fruit breads enriched with ground almonds, butter, milk, cream and eggs. The baked-on glaze is from another early book 'The Compleat Cook', 1658, which instructs us to make a soft mixture of rosewater and icing sugar, spread it over the top of the cakes when they are cooked then return them to the oven for a minute to dry. . . 'when you draw it out, it will shew like Ice.' And very pretty it is too.
Getting ready
Butter two 8 in / 20 cm deep round cake tins.
Sprinkle the dried yeast onto 2 tbsp water and set aside for 5 minutes.
Warm the cream and milk to blood heat.
Put the flour, sugar and salt into a very large bowl and warm in the oven for a few minutes.
Combine the almonds and rose water to make a paste.
Pour the sherry onto the currants.
Making the dough
Mix the softened yeast into the warmed cream and milk and pour this mixture into the flour, followed by the eggs.
Mix together with a wooden spoon or a dough hook in a stand mixer until you have a smooth and sticky dough.
Turn the dough onto a floured board and knead a little, then place it in a deep buttered bowl, cover with a damp cloth and leave tin a warm place to rise for 1½ hours. (I generally set the bowl in a basin of hot water which assists the rising.)
Soften the butter, and warm the currants while the bread is rising
Finishing and baking
Turn the puffy, risen dough out onto a large clean bench top and flatten it a little, roll up your sleeves and prepare to knead – this is a sticky process.
Spread the butter, spices, almond paste and currants over the dough and knead everything together until you have a well-mixed, soft dough. This will take 10-15 minutes, but it will all go together eventually . . . scrape back any currants that try to make their escape.
Divide the dough in half and put each into a prepared tin. Cover with a cloth and leave to prove for 25-30 minutes and preheat the oven to 375ºF / 190ºC. The dough should now be almost to the tops of the tins and very light and springy.
Bake the cakes for 15 minutes, then cover the tops with a double layer of paper and bake for another 30 minutes. The tops should be lightly browned and a fine skewer put into the middle of them should come out clean.
Icing the cakes
Sift the icing sugar into a bowl and mix to a fairly runny icing with the rose water. Pour this onto the tops of the cakes and spread it quickly over with a spatula.
Return the cakes to the oven for about 1 minute then remove and leave them to cool on a rack, still in the tins. After about 30 minutes, remove them carefully from the tins to finish cooling. The icing will be a firm, shiny, 'icy' glaze. Store airtight.