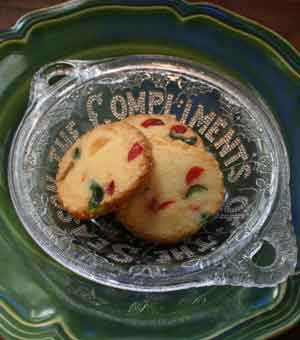 Switch to Metric
Switch to Imperial
Ingredients
55 g sugar
115 g butter
170 g flour
55 g green glace cherries
55 g red glace cherries
55 g crystallised ginger
½ cup Demerara sugar for coating
2 oz sugar
4 oz butter
6 oz flour
2 oz green glace cherries
2 oz red glace cherries
2 oz crystallised ginger
½ cup Demerara sugar for coating
2-4-6 Christmas Biscuits
This festive version of the 2-4-6 Refrigerator Biscuits is the invention of Yvonne Standen who made them for a morning tea at the Mairangi Bay Probus Club last year when I was talking about my book 'What's for Pudding?' Hers is a great way to use those brilliantly fake-looking red and green glace cherries. They peep out of the biscuits alongside the little chips of crystallised ginger and add a slightly chewy texture to a very crunchy sweet biscuit. I roll the biscuits in Demerara sugar as well to add a bit more Christmas sparkle. (Look at the list of ingredients in Imperial measurements if you are puzzled about the name.)
Getting ready
Preheat the oven to 350 degrees F / 180 degrees C and line a baking tray with baking paper or butter it lightly. Chop the cherries and the ginger into smallish pieces and have the butter at room temperature.
Mixing and baking
Combine the first three ingredients to make a smooth dough. A food processor does this job very well.
Knead in the cherries and ginger and form the dough into a long roll, pressing it firmly. Spread the Demerara sugar along a piece of waxed paper, roll the log of dough in the sugar, pressing it well so it adheres.
Wrap the dough well and refrigerate for at least 20 minutes, or overnight, or for up to 10 days.
When you are ready to bake, slice the dough into discs about 1/4 in / 7 mm thick with a thin-bladed table knife. Set them out on the baking tray, leaving a small space between the biscuits. Bake for 10-15 minutes until lightly golden. Cool on a rack and store airtight. Makes about 36 biscuits.