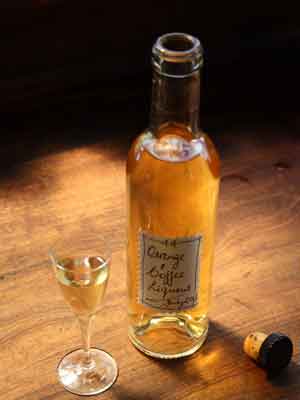 Switch to Metric
Switch to Imperial
Ingredients
1 orange
44 roasted coffee beans
44 white sugar cubes
750 ml plain vodka
1 orange
44 roasted coffee beans
44 white sugar cubes
3 cups plain vodka
'44' Orange and Coffee Liqueur
A friend recently told me this memorable recipe for a traditional home made orange liqueur which she was given in southern France. It has rapidly become a favourite, but it does take 44 days to make, so check your calendar for a special occasion 44 days away and start now! [break] The final liqueur is a pale golden colour and tastes wonderful, with a delicate orange flavour and a subtle afterglow of coffee. Serve it in small glasses over ice, or with a fruit dessert or a slice of almond cake – or anything that takes your fancy. A small bottle makes a lovely gift and you could even pass on the recipe
Making the liqueur
Make 44 small slits in the orange using a small knife with a sharp point and insert a coffee bean firmly into each opening. Place the orange in a large jar with a screw top.
Add the sugar cubes, pour over the vodka and close the jar.
Leave the jar on the kitchen bench for 1-2 days, shaking it regularly to encourage the sugar to dissolve.
When the sugar has dissolved, store the jar for 44 days in a cool, dark cupboard.
Remove the orange and coffee beans and discard. Filter the liqueur through a double layer of muslin, or a filter paper, and pour it into small bottles. Cork well. '44' will keep for years.