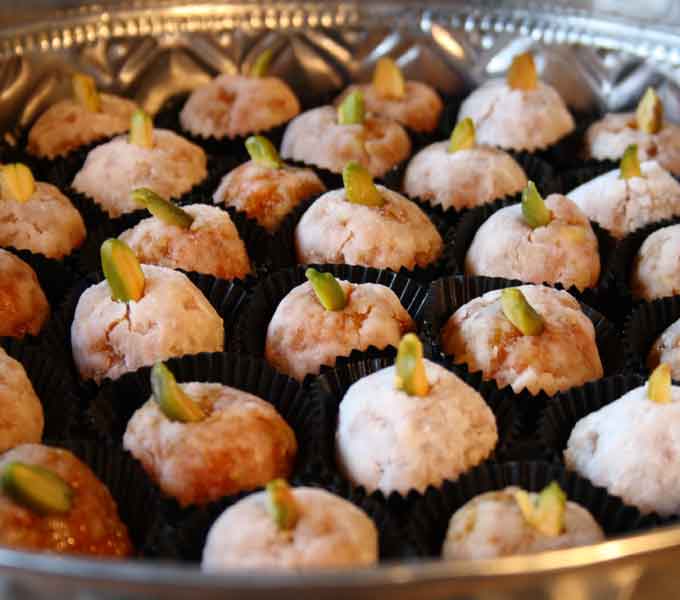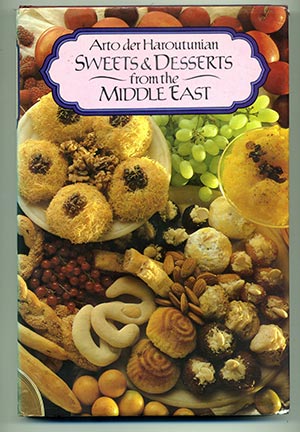 Switch to Metric
Switch to Imperial
Ingredients
450 g soft dried apricots
3 tbsp ground pistachio nuts
6 tbsp icing sugar
2 tbsp orange blossom water
½ tsp ground cardamom
Filling
2 tbsp ground almonds
2 tbsp sugar
½ tsp cinnamon
Finishing
½ cup icing sugar
2 tbsp slivered pistachio nuts
1 lb soft dried apricots
3 tbsp ground pistachio nuts
6 tbsp icing sugar
2 tbsp orange blossom water
½ tsp ground cardamom
Filling
2 tbsp ground almonds
2 tbsp sugar
½ tsp cinnamon
Finishing
½ cup icing sugar
2 tbsp slivered pistachio nuts
Apricot, Pistachio and Cardamom Sweetmeats (Zardalou Toush-porshodeh)
I used a combination of soft Turkish and tangy New Zealand dried apricots to make these delicious little sweets. The apricots are finely chopped and mixed with chopped pistachios, orange blossom water and cardamom and then formed into balls. A final flourish comes from a stuffing of ground almonds, cinnamon and sugar. Another fragrant triumph from Arto der Haroutunian's 'Sweets and Desserts from the Middle East.'
Getting ready
Combine the filling ingredients in a small bowl.
Sift the icing sugar onto a large flat dish.
Making the sweetmeats
Put the apricots into a food processor and whiz until they are very finely chopped.
Combine in a large bowl with the pistachios, icing sugar, orange blossom water and cardamom. Knead well until have a smooth paste.
With dampened hands, shape the mixture into small balls.
Use your finger or the handle of a wooden spoon to make an indentation in each ball and using a small spoon, put in a little of the filling mixture. (Take your time, this is a little fiddly.)
Now with dampened hands again, carefully close up the holes and reform the balls. As each ball is made, pout it on the icing sugar and roll around a little.
When all the balls are done, put them in small cases and tip each with a small silver of pistachio. Makes about 40 and they will keep for several weeks in an airtight tin.