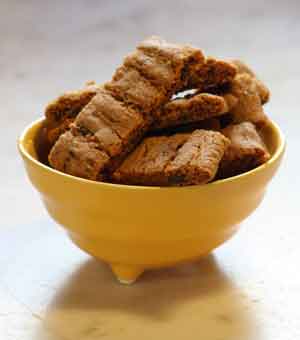 Switch to Metric
Switch to Imperial
Ingredients
115 g butter
115 g sugar
1 tbsp milk
2 tsp golden syrup
1 tsp baking soda
1 tbsp ground cardamom
170 g plain flour
½ cup chopped dark chocolate or chopped almonds
4 oz butter
4 oz sugar
1 tbsp milk
2 tsp golden syrup
1 tsp baking soda
1 tbsp ground cardamom
6 oz plain flour
½ cup chopped dark chocolate or chopped alomnds
Cardamom Christmas Crisps
Louette McInnes from Christchurch sent me a recipe she'd found in a Scandinavian book. As she astutely observed, it happily combines the cardamom and almonds typical of Finnish biscuits with the golden crispiness of New Zealand Hokey Pokey biscuits, but baked in long strips and then cut into fingers - Scandinavian fashion. I tried the recipe and agreed it is a lovely marriage of traditions. My version is the recipe for Hokey Pokey Biscuits from 'A Second Helping' spiced up for Christmas, and I tried replacing the choppped almonds with my sister Fiona's favourite addition, chocolate chips. So this is truly a hybrid recipe, but a very delicious one. Golden, crisp, elegant finger biscuits with small nuggets of dark chocolate or toasted almonds. Keep them in an airtight tin and enjoy the cardamom aroma which wafts out when you lift the lid.
Getting ready
Preheat the oven to 350 degrees F / 180 degrees C. Line a baking tray with baking paper or butter it lightly.Bring the butter to room temperature and sift the flour and ground cardamom together.
Mixing and baking
Cream the butter and sugar until soft and light. Put the milk and golden syrup into a small saucepan and bring to a boil over medium heat. ( The mixture will curdle, but this doesn't matter.)
Add the baking soda and stir quickly with a wooden spoon. When the mixture froths up pour it onto the butter and sugar and mix well.
Add the flour and cardamom mixture and the chopped chocolate or almonds, and mix until combined into a soft gough.
Divide the dough into three parts and gently from each one into a long roll about 1 inch / 26 mm diameter. Place the rolls lengthwise on the baking tray and press them flat with your fingers or a rolling pin so they become strips rather than rolls, about ½ in / 13 mm thick. Using a table fork, press long grooves down the length of the strips.
Bake them for about 20 minutes, rotating halfway through, and remove them from the oven when they are a dark golden brown.
Leave on the baking trays for a minute or two, then cut them into strips crosswise, and slide the baking paper and biscuits onto a cooling rack . (This is a quick way of shaping biscuits, one that Louette says she uses whenever time is short. It certainly is faster than rolling the biscuit dough into balls and flattening them individually.)
Store airtight when cool and give away to deserving friends - or even undeserving ones - they'll all enjoy them. Makes about 36 biscuits.