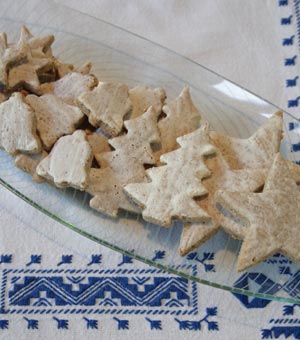 Switch to Metric
Switch to Imperial
Ingredients
225 g ground almonds
1½ tsp ground cinnamon
1 tsp finely grated lemon zest
2 egg whites
180 g icing sugar"
1½ cups ground almonds
1½ tsp ground cinnamon
1 tsp finely grated lemon zest
2 egg whites
1½ cups icing sugar
Cinnamon Stars (Zimtsterne)
A traditional Swiss recipe, which is also made in Austria and Germany, this found its way to New Zealand in The Peace Recipe Book, by Elsie Harvey but Elsie cut her biscuits into fingers rather than stars and called them Cinnamon Slices. The idea of rolling out and cutting a dough which is basically a meringue thickened with ground almonds is rather daunting. Trust me, it's possible, if a little fiddly, and the results are spectacularly good. Crisp on the outside and cinnamony-chewy inside, these are the perfect Christmas gift.
Getting Ready
Line two baking trays with baking paper, or grease them lightly. Make sure the egg whites are at room temperature, not straight from the fridge.
Mixing
Combine the almonds, cinnamon and finely grated lemon zest in a large bowl.
Beat the egg whites until stiff with a pinch of salt, gradually beat in the sifted icing sugar to make a fairly stiff meringue mixture. Set aside about one third of this in a covered bowl for the topping.
Tip the remaining meringue into the ground almond mixture and combine thoroughly – it should be a fairly firm dough. If it is too soft to roll out, add a handful of ground almonds.
Roll out the mixture on a floured board until it is about ¼ in/5 mm thick.
Cut out carefully into large or small stars using a cutter dipped in water, and transfer to the baking sheets using a spatula.
Press the scraps together and cut more stars, or if the stars are too much trouble, take the easier path of cutting the dough into fingers. They taste the same.
Set the trays aside for the biscuits to dry out a little – at least 1 hour or even overnight if that suits you better. Don't cover them closely or the surface will stay damp. I use use one of those umbrella-like fly covers, but you could improvise by draping a clean cloth over some tall jars.
Baking
Preheat the oven to 325 °F/160 °C.
Now for the slightly messy bit. You need to brush the stars with the reserved meringue mixture to make a crisp topping when they are baked. If the meringue seems too stiff, thin it with a teaspoon of cold water, and persevere. Use a fairly small brush and take your time over this.
Bake the glazed stars for about 15 minutes, or until they are lightly brown and firm but still moist.
Rotate the sheets after 10 minutes.
Cool on wire racks and store airtight. Makes at least 36 stars about 2 in/5 cm in diameter, or lots of tiny stars.