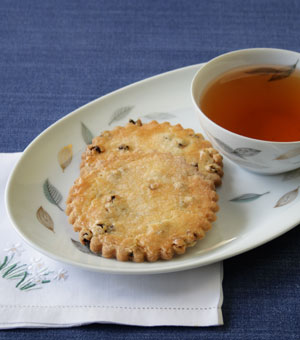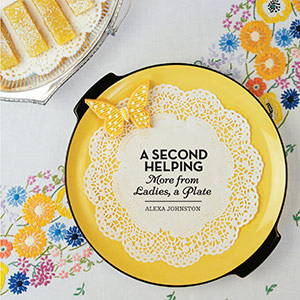 This recipe comes from my book:
A Second Helping
If you would like more recipes like it, you can buy the book at the bookshop
Switch to Metric
Switch to Imperial
Ingredients
140 g butter
115 g caster sugar
1 tsp lemon zest
2 egg yolks
225 g flour
35 g currants
pinch mixed spice or cinnamon
For the Glaze
1 egg white
caster sugar, extra
5 oz butter
4 oz caster sugar
1 tsp lemon zest
2 egg yolks
8 oz flour
¼ cup currants
pinch mixed spice or cinnamon
For the Glaze
1 egg white
caster sugar, extra
Easter Biscuits
Crisp, lemony, sugary and golden, these currant biscuits are an English recipe that appears in a number of early New Zealand cookery books - one of the many festival foods that migrated to the Antipodes with British settlers. In the West Country their colour and shape and their rich ingredients celebrate the end of Lenten fasting and the coming of spring. They are simply made and they don't look dramatic, but they do taste wonderful. Make them for afternoon tea on Easter Sunday.
Getting ready
Preheat the oven to 375°F/190°C and line an oven tray with a sheet of baking paper. Bring the butter to room temperature. Finely grate the zest of the lemon.
Mixing and baking
Cream the butter and sugar with the lemon rind, add the egg yolks and mix well. Work in the flour, spice and the currants until you have a fairly stiff paste. Put the dough in the fridge in a bowl, covered, and leave it to firm up for 10–15 minutes.
Sprinkle the bench with cornflour or rice flour to help stop the dough from sticking, and roll it out fairly thinly. Use a large fluted cutter (about 3 in/8 cm in diameter) to cut circles, and place them on the baking paper. Brush with lightly beaten egg white - just whisk it enough to make it liquid - and sprinkle them with caster sugar.
Bake for 10–15 minutes, rotating the tray after 5 minutes. Easter Biscuits should be a light golden colour. Store airtight. Makes about 24.