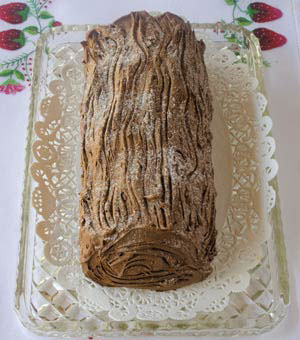 This recipe comes from my book:
Ladies a Plate
If you would like more recipes like it, you can buy the book at the bookshop
Switch to Metric
Switch to Imperial
Ingredients
3 eggs, separated
100 g caster sugar
2 tbsp cocoa
2 tbsp cornflour
1 tsp vanilla essence
150 ml cream
flaked chocolate *
3 eggs, separated
½ cup caster sugar
1 tbsp * cocoa
1 tbsp * cornflour
1 tsp vanilla essence
¼ pint cream
flaked chocolate *
Myra's Chocolate Log
Chocolate Log is a dessert cake the French call Bûche de Nöel, and is intended to represent the Yule Log traditionally burnt at Christmas. The word 'yule' is based on the Old Norse name of an ancient winter solstice festival celebrated in northern Europe, and eventually adopted by Christians as their own Christmas festival. In New Zealand, a chocolate sponge roll is a special occasion treat and Myra Lawrie has made this for many Christmases and birthdays. Her recipe comes from Mrs Pelham in Selwyn Girl Guides' 300 Favourite Recipes, published in Auckland in 1965. Myra's reputation as a fine home baker is second to none. This is one of her specialties.
Getting ready
Preheat oven to 400 °F/ 200 °C. Line a sponge roll tin with baking paper. Separate the eggs and have whites and yolks at room temperature.
Mixing and baking
Beat the yolks and caster sugar with an electric beater until pale yellow and very fluffy.
Beat the egg whites to a stiff foam, but don't have them too dry and or they'll be difficult to fold in evenly.
Fold the sifted dry ingredients and the vanilla into the fluffy yolks and sugar. Now add one tbsp of the beaten whites, stir in to loosen it, then fold in the rest very carefully using a metal spoon. Turn the bowl as you go, cutting and folding until the mixture is a smooth brown foam with no white streaks.
Pour it into the tin and spread out evenly.
Bake for 10 minutes. Don't try to rotate the tin halfway through or your sponge may sink.
Remove from oven, turn out onto a damp tea towel and roll up in the towel starting with the short end of the sponge. Cool completely on a rack.
Finishing
Unroll, spread with whipped cream, re-roll carefully and ice with thin chocolate icing or a creamy chocolate butter icing. Sprinkle with chocolate hail or flaked chocolate if you wish, and chill overnight before serving.