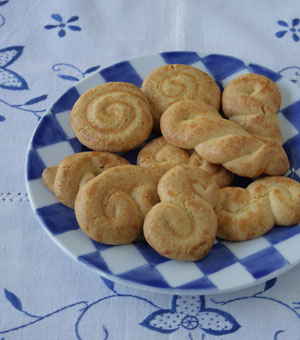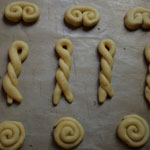 Leave plenty of space between them on the baking tray.
Switch to Metric
Switch to Imperial
Ingredients
225 g butter
170 g caster sugar
2 egg yolks*
2 oranges**
2 tbsp brandy
450 g self-raising flour
For glazing
1 egg yolk
2 tbsp orange juice
8 oz butter
6 oz caster sugar
2 egg yolks*
2 oranges**
2 tbsp brandy
1 lb self-raising flour
For glazing
1 egg yolk
2 tbsp orange juice
Pascalinas
There are many recipes for buttery Greek Easter biscuits in which the dough is twisted or rolled into pretty shapes, then glazed with beaten egg and baked. They generally include almonds, vanilla, aniseed, sesame seed and spices and this simple, orange-flavoured version is based on one in Elizabeth Luard's 'European Festival Food'. (Bantam Press, 1990) Pascalinas are as enjoyable to make as to eat and they are a very welcome Easter gift, so you should follow the Greek tradition - make plenty of them and share them around.
Getting ready
Preheat the oven to 375°F/ 190°C
Bring the butter and egg yolks to room temperature. (Remember that you can freeze the egg whites for another use.)
Grate the zest from the orange and squeeze out the juice.
Line two baking trays with baking paper or grease them lightly.
Mixing and baking
Cream the butter and sugar until soft and light. (This takes at least 5 minutes.) Beat in the egg yolks and the orange zest.
Mix in the sifted flour and lastly add the orange juice and brandy. You should have a fairly stiff dough.
Divide the dough into tablespoon lots and roll each into a ball before you begin to shape them.
Take a ball of dough and roll it out into a rope with well-floured hands. The rope should be the thickness of a pencil and about 5 in / 14 cm long. Twist the rope into a spiral, or an 'S' shape, or a knot, or fold it in half and twist the two ends around each other - or any other shape you like. Place the shaped biscuit on a baking tray. Repeat with the other balls of dough, leaving small spaces between them - they will spread a little.
When one tray is filled, put it in the fridge for 5 minutes while you shape the rest of the biscuits. Remove the chilled biscuits from the fridge and replace them with the second tray.
Mix the egg yolk with the orange juice to make the glaze and brush over the chilled biscuits - use a smallish brush and try to get an even coverage.
Bake for 15 minutes, until they are golden, rotating the tray after 10 minutes to make sure that they brown evenly. (When you open the oven your kitchen will fill with their lovely orange scent.) Remove them to a cooling rack, leave until quite cold. Glaze and bake the second tray in the same way.
This recipe makes about 50 biscuits and they will keep for at least 10 days in an airtight container.