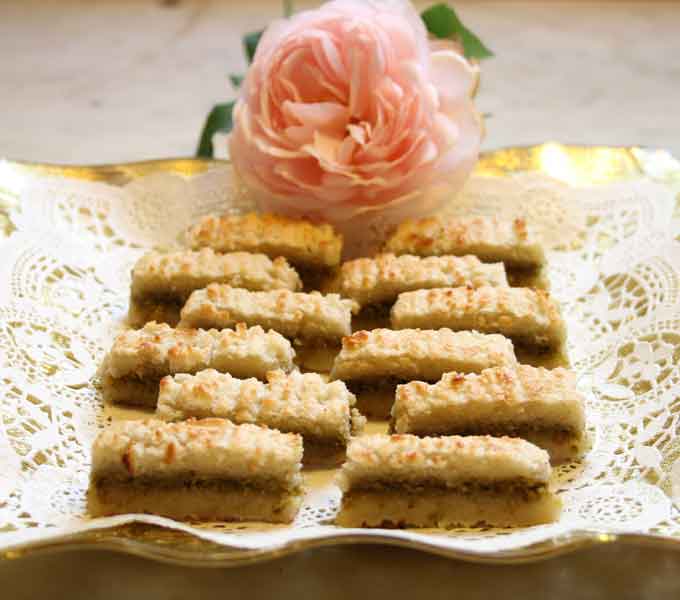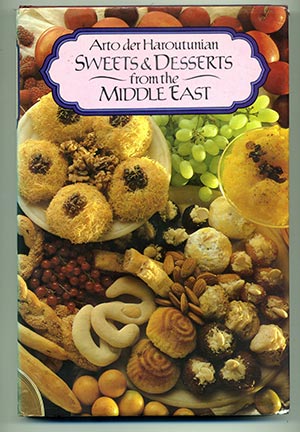 Switch to Metric
Switch to Imperial
Ingredients
450 g ground almonds
340 g icing sugar
6 tbsp rose water
1 egg white
225 g pistachio nuts
3 tbsp orange blossom water
1 lb ground almonds
12 oz icing sugar
6 tbsp rose water
1 egg white
8 oz pistachio nuts
3 tbsp orange blossom water
Pistachio and Almond Fingers (Kahk-bil-loz)
In his wonderful book, 'Sweets and Desserts from the Middle East', Arto der Haroutunian described this layered pistachio and almond sweetmeat as 'One of the greatest in the whole Middle Eastern repertoire.' A paste of ground pistachios and orange blossom water is sandwiched between two layers of rosewater-flavoured almond marzipan. This confection is assembled in a flat tin and baked very briefly, then you score the top with a fork and flash it under the grill, and lastly slice the cooled mixture into tiny, cream-and-green striped fingers. Spectacularly good.
Getting ready
Preheat the oven to 350ºF / 180ºC and line a shallow 12 x 8 in / 30 x 20 cm tin with a piece of baking paper, allowing the paper to extend up at the two long sides, since you will use it to lift the cooked mixture out.
Grind the pistachios to a fine powder in a food processor or nut grinder.
Making the fingers
Put the ground almonds, sifted icing sugar and rosewater into a large bowl and knead together into a paste.
Beat the egg white until stiff and mix it through the paste. Set aside.
Combine the ground pistachios and orange blossom water to make a smooth paste. With dampened fingers, spread half of the almond mixture into the prepared tin, be patient and smooth it carefully into the corners, aiming for an even layer about ¼ in / 5 mm thick.
Roll out the pistachio mixture on a sheet of baking paper until it is the size of the tin, then flip it onto the almond paste and remove the paper.
Top with the remainder of the almond paste, smoothing and levelling it well. (Dampened hands are essential, since this is sticky process.)
Bake for just 10 minutes. The mixture should be slightly firm, but not coloured.
Now rough up the surface making horizontal lines with a fork and put under a hot grill for about a minute until the surface is very lightly browned. Remove and cool on a rack, still in the tin.
When quite cold, remove the slab from the tin using the baking paper, put on a board and slice into fingers ½ x 2 in / 1 x 5 cm. Makes about 90 fingers. Store airtight.
NOTE If you find, as I did, that the bottom layer of almond marzipan is till too soft to slice, turn the whole slab carefully onto another sheet of baking paper, rough up the lower surface with a fork and flash under the grill as you did the top layer. This makes slicing a lot easier.