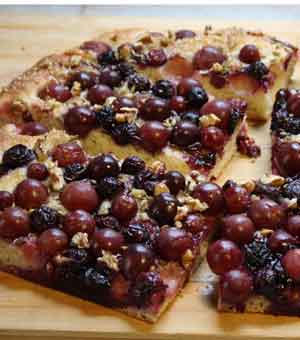 Switch to Metric
Switch to Imperial
Ingredients
For the Sponge
2 tsp active dry yeast
50 g sugar
1 cup warm water
2 eggs
250 g high grade flour
For the Dough
250 g high grade flour
50 g sugar
1 tsp fine sea salt
100 g unsalted butter, warmed
For the Topping
500 g ripe red grapes
75 g walnuts, lightly toasted and chopped
1 tbsp fennel seeds
75 g Demerara sugar
For the Sponge
2 tsp active dry yeast
¼ cup sugar
1 cup warm water
2 eggs
1¾ cups high grade flour
For the Dough
1¾ cups high grade flour
¼ cup sugar
1 tsp fine sea salt
100grams unsalted butter, warmed
For the Topping
3 cups ripe red grapes
¼ cup walnuts, lightly toasted and chopped
1 tbsp fennel seeds
1/3 cup Demerara sugar
Schiacciata all' Uva / Sweet Tuscan Harvest Bread
During the autumn grape harvest in the Italian province of Tuscany, bakers produce big trays of this delicious sweet flat bread covered in grapes which cook to a wonderful rich purple. I usually make Schiacciata (skee-ach-ata) with our own Albany Surprise grapes, but you could try making it with other red or black grapes or even blueberries - they'll all produce lots of juice. Italian bakers scatter the grapes with fennel seeds and a few chopped walnuts, so that the crunch of the nuts disguises the grape pips as you eat them - a clever idea. This version is from Carol Field's 1990 book Celebrating Italy. It makes a big tray and cuts into at least 16 large pieces.
To make the sponge
Stir yeast and sugar into the water or milk and let stand until frothy - about 10 minutes
Whisk in the eggs, and then stir in the flour in 2-3 additions. Cover tightly with plastic wrap and let stand until bubbly - about 30 - 45 minutes.
To make the dough
Stir the flour sugar and salt into the sponge. The mixture will be very firm. Add the butter a tablespoon at a time, turn out the mixture and knead until smooth on a lightly floured board. Keep kneading for 6-7 minutes, or 3 minutes at medium speed with a dough hook. The dough is soft and quite sticky; when you pinch the surface, the little peak you make should hold its point very briefly before it tips back over into the dough.
First rise
Set the dough in an oiled bowl, turning it over so all the surfaces are oiled. Cover tightly and let rise until doubled, about 1 ¼ to 1 ½ hours. Or overnight in the refrigerator.
Shaping and second rise
Turn the dough out onto a lightly oiled 16 x 11 inch / 40 x 28 cm baking pan and stretch it out with your fingertips. (If you have refrigerated it, give it a couple of hours at room temperature to recover.) You may need to stretch the dough and let it rest briefly before stretching some more. Sprinkle the grapes and walnuts over the dough. Cover with a towel and let it rise until puffy and doubled - about 1 hour.
Baking
Sprinkle the top of the bread with the sugar and fennel seeds and bake at 400ºF / 200°C for 15 minutes. Turn the heat down to 350ºF / 180°C for another 10-15 minutes. After 20 minutes of baking, tilt the pan and baste with the sugary juices.
Remove from the oven, cool on a rack for a few minutes and then cut into large pieces. Eat warm, thanking God for the grape harvest.