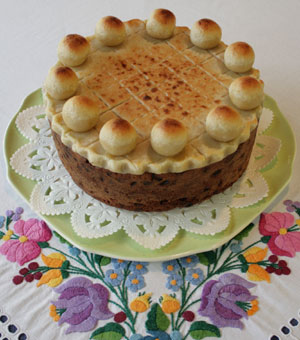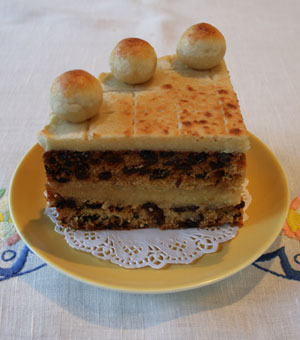 Switch to Metric
Switch to Imperial
Ingredients
For the Cake
170 g butter
170 g caster sugar
4 eggs
170 g flour
½ tsp baking powder
2 tsp mixed spice
225 g sultanas
225 g raisins
55 g candied peel
For the Almond Paste in the centre
170 g ground almonds
85 g caster sugar
85 g icing sugar
2 drops almond essence*
1 egg
a handful of blanched almonds - optional
* or 1 tsp rose water or orange flower water
For the Cake
6 oz butter
6 oz caster sugar
4 eggs
6 oz flour
½ tsp baking powder
2 tsp mixed spice
8 oz sultanas
8 oz raisins
2 oz candied peel
For the Almond Paste in the centre
6 oz ground almonds
3 oz caster sugar
3 oz icing sugar
2 drops almond essence*
1 egg
a handful of blanched almonds - optional
* or 1 tsp rose water or orange flower water
Simnel Cake
An utterly delicious idea - to bake a round of almond paste in the middle of a light fruit cake so it becomes an almost fudge-like marzipan layer. To be completely traditional you can then top the cake with more almond paste and a decorative finish of your choosing. Simnel Cake seems originally to have been a treat for Mothering Sunday in the middle of Lent when there was a break in the 40 days of fasting leading up to Good Friday. Today it is associated with Easter Sunday feasting. Margaret Bates describes her recipe as 'a good cutting cake . . . luscious, spicy, rich and good to eat'. It is my favourite. Miss Bates also notes very wisely: 'When setting out to mix a Simnel Cake try to have plenty of time for the work in hand . . . two mixtures must be prepared, before it can be put in the oven and so leisure is necessary if one is to enjoy making the cake.' (Margaret Bates: 'Talking About Cakes, with an Irish and Scottish Accent', Pergamon Press, Oxford, 1964.)
Getting ready
Line an 8 in/23 cm cake tin with baking paper and preheat the oven to 325 °F/160 °C. Bring the butter to room temperature. Make the almond paste by combining all the ingredients except the egg in a bowl or a food processor, then add just enough beaten egg to make a firm paste. Roll out the paste between two sheets of waxed paper to the size of your cake tin. It should be about ½ in/13 mm thick. Set aside.
Mixing and baking
Cream the butter and sugar until light and fluffy. Add the beaten eggs alternately with the flour and lastly stir in the fruit, spice and baking powder.
Put half the mixture into the lined cake tin. (I weigh the whole mix, then halve it to make sure I get the proportions right, but this isn't strictly necessary.) Lay the almond paste on top, press it gently into position and then add the remaining cake mixture. Level the top with a damp hand to stop fruit from poking out and burning. If you intend adding a top layer of almond paste later, leave the cake plain, otherwise a few rows of blanched almonds arranged around the top look suitably festive.
Bake for about 2½ hours until golden and firm to the touch and shrinking a little from the sides of the tin. (Testing with a skewer is difficult because of the almond paste, which remains sticky) Leave to cool in the tin, then turn out and remove the baking paper.
Finishing
You can serve the cake as it is - with or without the whole almonds on top - and no one will complain, but if you want to be more traditional you can do the following: Make another batch of almond paste using 8oz/225 g almonds and 4oz/115 g each of caster and sifted icing sugar, and beaten egg to mix. Roll two-thirds of it out between layers of waxed paper, roughly to the size of the tin. Brush the paste lightly with beaten egg and invert the cake onto it. Press well together and trim away any excess paste with a sharp knife. Turn the cake over and decorate with the remaining almond paste - 11 balls of paste are said to represent the 11 faithful apostles. Finally brown the top very quickly under a hot grill.