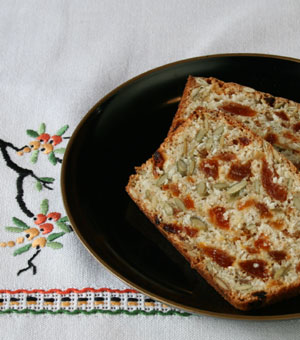 Switch to Metric
Switch to Imperial
Ingredients
225 g sugar
110 g medium grade desiccated coconut
200 g dried apricots
150 g plain flour
70 g wholemeal flour
1½ tsp baking powder
110 g pumpkin seeds
375 ml milk
1½ tsp vanilla essence
1 large cup sugar
1½ cups medium grade desiccated coconut
1½ cups dried apricots
1 large cup plain flour
½ cup wholemeal flour
1½ tsp baking powder
¾ cup pumpkin seeds
1½ cups milk
1½ tsp vanilla essence
Apricot and Coconut Loaf
This pretty and delicious loaf comes from a 2009 community cookbook, produced by the Tokoroa District Lions to raise funds for their local hospice. My friend Shirley Dunphy is a member of the small team of hardworking and talented women who put it together. Shirley's Chocolate Caramel Slice is in Ladies, a Plate and her wholemeal date shortcake appears in A Second Helping, called Sister Blake's Cake. Both those recipes are in a 1963 Tokoroa recipe book but this loaf dates from the 1970s when Shirley baked it regularly for a local health food shop. It contains no butter or egg and so the coconut helps keep it moist, and the pumpkin seeds and the small amount of wholemeal flour contribute a slightly healthy glow. Use sharp and flavoursome dried apricots, not sweet ones, if you can - the best ones are from Central Otago. Apricot and Coconut Loaf is fantastically easy to make since you just add milk to the combined dry ingredients and stir everything together. You can serve it buttered or eat it plain and the flavour and texture are extremely good. Shirley's recipe is for a smallish loaf, and I have increased the mixture by half so that it fills a regular sized loaf tin. My tin holds 5 cups of water and measures 8¾ x 4¾ inches or 22 x 12 cm at the top.
Getting Ready
Preheat the oven to 325º F / 160º. Shirley suggests using fan bake for this recipe if you can.
Grease a medium to large loaf tin with butter and line the base of the tin with a rectangle of baking paper.
Chop the dried apricots into smallish bits - about the same size as the pumpkin seeds.
Mixing and Baking
Put all the dry ingredients into a large bowl and combine well.
Pour in the milk and vanilla essence and mix everything thoroughly with a wooden spoon. It is quite a wet mixture.
Pour the mixture into the prepared tin, put it on in the centre rack of the oven and bake for about 1½ hours.
Rotate the tin after 40 minutes and keep checking the loaf towards the end of the baking time. The top should be an even golden brown and will probably have a long crack along the centre; it should feel firm and springy to the touch, and the edges should be pulling away from the sides of the tin.
Cool on a wire rack for about 10 minutes before removing it from the tin to finish cooling. Store airtight.