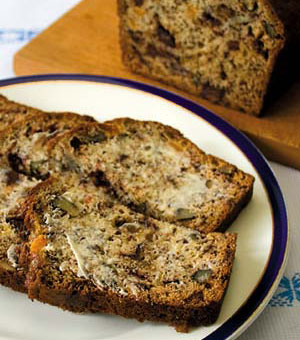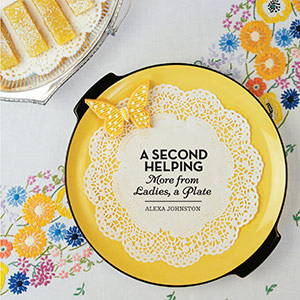 This recipe comes from my book:
A Second Helping
If you would like more recipes like it, you can buy the book at the bookshop
Switch to Metric
Switch to Imperial
Ingredients
3 ripe bananas*
2 eggs
150 g sugar
250 g flour
1 tsp salt
1 tsp baking soda
50 g walnuts**
* medium-sized ones, weighing about 115 g each, unpeeled
** or Brazil nuts
3 ripe bananas*
2 eggs
¾ cup sugar
2 cups flour
1 tsp salt
1 tsp baking soda
½ cup walnuts**
* medium-sized ones, weighing about 4 oz each, unpeeled
** or Brazil nuts
Banana Nut Loaf
Since we are in the territory of items to be buttered, we'll begin with a recipe that, although nicely moist and with very good keeping qualities, includes no butter in the mixture. Buttering a slice of this delicious loaf before you eat it is therefore practically obligatory, rather than indulgent. It is very fast and easy to make, but you do need bananas that are very ripe so they mash up well: they are the source of most of the moisture. Like many simple loaf recipes, this one lends itself to alternative versions - I sometimes chop up a few dried apricots, some crystallised ginger and even a couple of squares of dark chocolate and toss them in.
Getting ready
Preheat the oven to 350°F/180°C. Lightly grease a medium-sized (8 x 4 in/20 x 10 cm) loaf tin and line the bottom with a rectangle of baking paper. Coarsely chop the nuts.
Mixing and baking
Mash the bananas, put them into a bowl and break the eggs in on top of them. Beat very well together with a wooden spoon. Stir in the sugar, then sift on the flour, salt and baking soda. Mix everything together, then add the nuts.
Spoon the mixture into the prepared tin, smooth the top and bake for about 1 hour, rotating the tin halfway through to ensure the loaf browns evenly.
When the loaf is well risen and browned, test it by pressing lightly in the centre with your finger - it should spring back. Remove it from the oven and after about 5 minutes turn it out onto a rack to cool, remove the baking paper and turn it up the right way again. Store airtight, once it is cool.