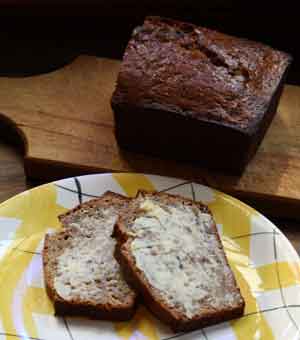 Switch to Metric
Switch to Imperial
Ingredients
75 g bran
225 g sultanas*
225 g soft brown sugar
300 ml milk
175 g self-raising flour
1 tsp baking powder
* Or try 175 g mincemeat, 50 g sultanas and reduce the sugar to 170 g.
1 cup bran
1¼ cups sultanas*
1¼ cups soft brown sugar
1¼ cups milk
1½ cups self raising flour
1 tsp baking powder
* Or try 6 oz mincemeat, 2 oz sultanas and reduce the sugar to ¾ cup.
Bran Teabread
Bran Teabread is from Shonagh Koeas's book 'The Kindness of Strangers: Kitchen Memoirs' published by Random House in 2007. As well as being a highly enjoyable read, it includes many very good and well-tested recipes from different periods in Shonagh's life. To make this easy teabread you soak bran in milk overnight with brown sugar and sultanas - or Christmas mincemeat, then in the morning mix in flour and baking powder and bake. Shonagh accurately describes the teabread as delicious, 'extremely good for you and extremely economical, which is something that must be considered in a literary life.'
Getting ready
The night before you plan to bake the loaf, put the bran, sultanas, sugar and milk into a bowl, stir well, cover and leave on the bench overnight.
Mixing and baking
In the morning, heat the oven to 375º F/ 190º C and grease a loaf tin.
Sift together the flour and baking powder, add the wet ingredients and mix well.
Put into the prepared tin and bake for about an hour until well risen and firm to the touch. Store airtight and eat buttered, with a cup of tea.