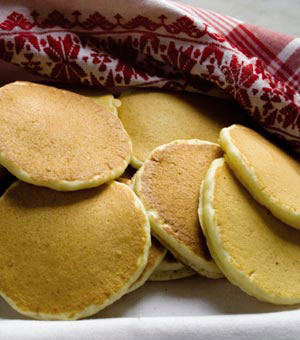 Switch to Metric
Switch to Imperial
Ingredients
1 egg
30 g caster sugar
170 ml milk
125 g flour
1 tsp baking powder
15 g melted butter
25 g golden syrup *
1 egg
2 tbsp caster sugar
¾ cup milk
1 cup flour
1 tsp baking powder
1 tbsp melted butter
1 tbsp golden syrup *
Perfect Pikelets
For me, this recipe makes perfect pikelets. Myra Lawrie was my adviser on the pikelet front and I have given her recipe to a number of novice cooks, who have found it easy and reliable. But there are many others in widespread use, so if you already have a winner, stick with it - a good pikelet recipe is a faithful friend for last-minute baking. Pikelets keep well in a tin for a day or so, and I like them sandwiched with a little butter and jam, then well wrapped in waxed paper for a car journey or a lunch box. Soft, not too sweet, and very satisfying.
Getting ready
Put a heavy-based frying pan or a cast iron griddle on a medium element to heat up. Put a folded clean tea towel onto a board beside the stove. As you make the pikelets cover them with the tea towel to keep them warm and soft.
Mixing and cooking
Put the egg and sugar into a mixing bowl and beat with a rotary hand-beater or a whisk until pale and fluffy. This will take less than a minute.
Tip in the milk, then the sifted flour and baking powder, and lastly the melted butter. Mix quickly to a light, spongy batter. (If you are using the golden syrup, melt it with the butter and add it at the same time. Many recipes suggest that this makes pikelets keep better.)
Now grease the surface of your pan very lightly with butter* and begin.
Use a tablespoon or a dessertspoon to pour the batter onto the griddle - hold the spoon vertically and pour from the tip and the circles will be perfect. Make about four at a time.
Wait until bubbles appear on the top of the pikelets and begin to burst. Flip them over carefully with a spatula and cook the other side for just about 30 seconds until lightly browned.
Pile your pikelets in between two layers of the clean tea towel and keep going until they are all cooked.
Serve them forth. Jam is pretty essential, with either butter or whipped cream - but probably not both. Makes about 18 pikelets.