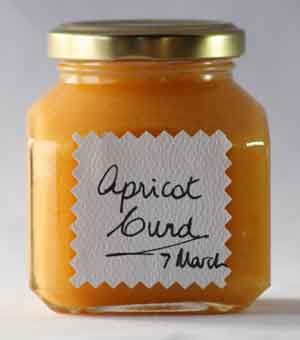 Switch to Metric
Switch to Imperial
Ingredients
350 g dried apricots
1 lemon
340 g caster sugar
170 g butter
4 large eggs
12 oz dried apricots
1 lemon
12 oz caster sugar
6 oz butter
1 large eggs
Apricot Curd
Less well-known than jams or jellies, fruit curds are specialty preserves for special occasions. We all know about lemon curd, a luxurious blend of eggs, sugar, butter and lemon juice, but I've recently discovered the delights of curd made with other pureed fruit, and apricot curd, made with dried apricots, is a particular favourite. [break] These are not new recipes, they date from at least the 1920s but they seem to have slipped out of sight and I think they are overdue for a revival. Eat fruit curds on toast, or spoon them onto scones or pikelets or into small pastry cases and top them with a little whipped cream, or serve them alongside some soft cheese with a few crisp, sweet biscuits. A real treat and a perfect gift.
Preparing the fruit
Cover the dried apricots with cold water and leave to soak overnight, then cook in the soaking water until soft, drain and puree them.
Finely grate the zest from the lemon and squeeze out the juice.
Make sure the eggs are at room temperature.
Getting ready
Wash small jam jars and their lids in hot water, rinse them and put them in the oven set to 250 °F /120 °C for about 30 minutes to drain and dry.
Heat some water in the base of a double boiler, or a saucepan over which you can sit a heatproof mixing bowl.
Making the apricot curd
Put the apricot puree, lemon zest and juice, sugar and butter into the top of the double boiler, or the mixing bowl. The water underneath should be just simmering. Stir with a wooden spoon until the butter melts and the sugar dissolves.
Beat eggs in a small bowl until they are liquid. Pour a little of the hot mixture onto the eggs stirring well, then pour it all back into the double boiler, and return to the heat.
Stir over still-simmering water until the mixture thickens - this should take about 5-6 minutes. Don't let it boil; it will thicken further as it cools.
Pour the apricot curd through a sieve and then carefully into the heated jars. Cover. Store in the fridge once it is cool, and eat within 4-6 weeks.
Makes 3 cups / 750 ml