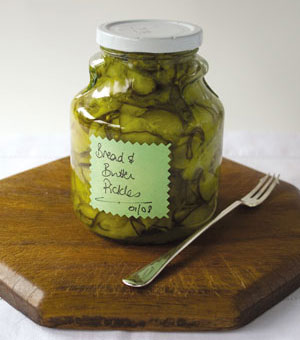 This recipe comes from my book:
Ladies a Plate
If you would like more recipes like it, you can buy the book at the bookshop
Switch to Metric
Switch to Imperial
Ingredients
1.5 kg cucumbers*
450 g onions
2 tbsp sea salt
1 litre white wine vinegar
400 g caster sugar
2 tsp white mustard seed
1 tsp turmeric
1 tsp peppercorns
1 tsp fennel seeds
1 lemon, zested
3 bay leaves
2 cucumbers*
1 lb onions
2 tbsp sea salt
4 cups white wine vinegar
2 cups caster sugar
2 tsp white mustard seed
1 tsp turmeric
1 tsp peppercorns
1 tsp fennel seeds
1 lemon, zested
3 bay leaves
Bread and Butter Pickles
Very easily made, these cucumber and onion pickles are perfect with bread and butter - hence their name - but they can be served with almost any cheese or cold meat too. Drain them and add to a sandwich, or put them on crackers and eat immediately. They are a lovely colour and have a crisp, sharp flavour tempered with sweetness.
Getting Ready
Slice the cucumbers into 2 mm slices. I use a mandoline slicer, or you could use the slicing attachment on your food processor if the cucumbers will fit down the feed-tube. Peel and halve the onions and slice thinly. Layer the vegetables in a colander, sprinkling them with the salt, then cover with a wet cloth and stand for three hours. Drain, rinse well with cold water, and drain again.
Making the pickle
Heat the oven to 300 °F/150 °C, wash 4 jam jars in hot water, rinse them and put them to drain and dry in the oven.
Put the remaining ingredients into a large aluminium or stainless steel saucepan - not a copper preserving pan - and bring to the boil, stirring.
Add the drained vegetables and return the mixture to boiling point, stirring, then turn off the heat immediately.
Take the warmed jars out of the oven and place them on a board - a wide-mouthed funnel is a help when you fill the jars. I use tongs to lift the cucumber and onion out of the pot and into the jars, then ladle out the pickle liquid and spices and pour it on top of the vegetables, filling the jars to the top. Discard the remaining liquid.
Put on the lids and leave until the jars cool before labelling and storing in a cool, dark place. You can use these pickles immediately if you wish, but they keep well. Makes 4 jars (2½ pints/1.6 litres).