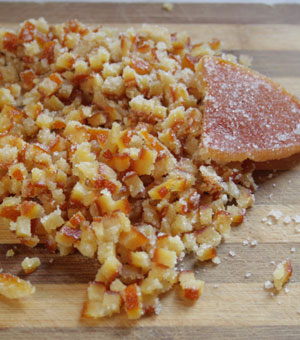 Switch to Metric
Switch to Imperial
Ingredients
2 large oranges
200 g white sugar
125 ml water
2 tbsp liquid glucose or 1/4 tsp cream of tartar
200 g caster sugar
2 large oranges
1 cup white sugar
1/2 cup water
2 tbsp liquid glucose or 1/4 tsp cream of tartar
1 cup caster sugar
Candied Orange Peel
My first attempt at candying orange peel, when I was about 13 years old, resulted in a smoke-filled kitchen, a blackened pan, charred and ruined peel and a very irritated and disappointed young cook. I gave up on candied peel as an impossible challenge. Many years later, after much searching, I came upon this recipe in 'The Village Baker's Wife' by Gayle and Joe Ortiz (Ten Speed Press, 1997) and my bad peel experience receded into distant memory. Follow this recipe carefully and you will soon be the proud creator of some delicious candied orange peel which is far, far nicer than anything you can buy.
Getting Ready
Squeeze the juice from the oranges, set it aside for another use and cut the orange peel into quarters. You could also use lemon peel or pieces of mandarin peel.
Candying the peel
Place the peel in a saucepan, cover it with cold water and bring to the boil. Drain, replace with more cold water and bring to the boil again. Simmer fore 10 - 15 minutes until the white pith is translucent.
Remove the pan from the heat, let stand for 15 minutes, then drain the peel and allow it to cool a little. Use a spoon to scrape away some of the white pith, then cut the peel into strips, or leave it in pieces if you prefer.
Combine the first measure of sugar with the water and the liquid glucose or the cream of tartar in the rinsed out saucepan (These both stop the syrup from crystallising.) Stir everything over a low heat until the sugar is completely dissolved.
Add the peel and cook over a medium heat until the peel is translucent and tender. This should take about 10 minutes, or a little longer if the peel is in larger pieces. Increase the heat and boil the mixture for 4 minutes, or until it reaches 230°F/ 110° C degrees centigrade - I usually just time it. Meanwhile, cover a baking sheet with the caster sugar.
Drain the cooked peel well in a sieve, then place on the baking sheet and toss with the sugar until all the pieces are coated - finger-burning work. Separate the pieces and lay them on a clean baking sheet or wire rack to dry. I usually heat the oven to about 150° F / 80° C, turn it off and leave the tray of peel in there overnight. When they are quite dry store them in an airtight container. Kept in the fridge it lasts for at least a year.