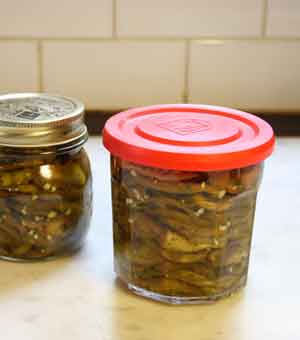 Switch to Metric
Switch to Imperial
Ingredients
900g aubergines (about 2 large purple aubergines)
3 tbsp fine salt
1 tbsp chopped garlic
1 tbsp chopped oregano or mint or basil
2 tbsp wine vinegar - red or white
2 small, hot fresh or dried red chilli peppers
Olive oil - about 250 ml
2 lb eggplant (about 2 large purple eggplants)
3 tbsp fine salt
1 tbsp finely chopped garlic
1 tbsp chopped oregano or mint or basil
2 tbsp wine vinegar - red or white
2 small, hot fresh or dried red chilli peppers
Olive oil - about a cup
Melanzane sott'Olio (Aubergines preserved in oil)
This recipe comes from 'Marcella's Kitchen' by one of my favourite food writers, Marcella Hazan. The aubergine slices 'cooked' by being salted so that they release a lot of water and become slightly firm, almost leathery in texture, then they are flavoured with garlic, herbs and a little vinegar, packed into jars and covered with oil. Try slices of them with crusty bread before a meal, or toss them through pasta with some fresh tomato sauce or put them on a pizza - or try them on hot wholegrain toast. They are endlessly versatile and they always taste wonderful.
Preparing the aubergines
Peel the aubergines, cut them in half lengthwise and then across into ¼ in / 7 mm thick slices. Place them in a bowl with the salt toss them thoroughly, cover and set aside to steep for 12 to 16 hours at room temperature.
Making the preserve
Drain the aubergines and squeeze them thoroughly to extract as much liquid as you can. (This takes quite a lot of squeezing and they will be fairly crumpled, but you will flatten them out again when you put them into jars.) Put them in a clean bowl with the garlic, herbs, and 1 tbsp of the vinegar. Toss thoroughly and at length to distribute the flavourings.
Layer the slices as neatly as you can into a wide-necked jar, putting the chillies in between the layers of aubergine. Press them down a little with the back of a spoon, put on top any of the garlic and herbs that are still in the bowl and pour over the second tablespoon of vinegar.
Finally pour over the olive oil allowing until it is about ¼ in / 7mm above the aubergine. It doesn't need to be extra virgin olive oil, but a little in the mix gives a lovely green colour. Cover tightly and put in the jars the fridge. The oil will slowly make its way down through the layers, but you can hasten the process by slipping a wooden skewer down the sides of the jar and releasing any air bubbles before you refrigerate it. Make sure that the oil is still covering the aubergine after a few hours and top it up if necessary.
This preserve is ready to eat as soon as you have made it, but becomes richer in flavour with time. It will keep in the refrigerator for 3-4 months, but always return to room temperature before serving it.
Marcella Hazan suggests that if you make a large quantity and would like to keep it for as long as a year, use a good vegetable oil such as sunflower or safflower instead of olive oil.