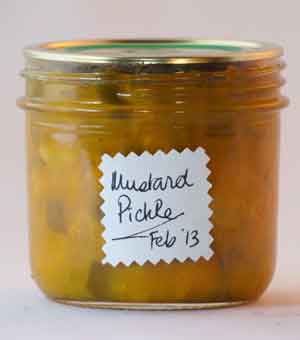 Switch to Metric
Switch to Imperial
Ingredients
ingredients
450 g cauliflower
450 g cucumber
450 g onions
225 g celery
1 green capsicum
2 tbsp salt
310 ml cider vinegar
250 g sugar
2 tsp fennel seed
2 tsp mustard seed
3 tbsp flour
2 tsp mustard powder
2 tsp turmeric
1/2 small cauliflower
1 large cucumber
1 lb onions
4 sticks celery
1 green capsicum
2 tbsp salt
1 1/4 cups vinegar
1 1/4 cups sugar
2 tsp fennel seed
2 tsp mustard seed
3 tbsp flour
2 tsp mustard powder
2 tsp turmeric
Mrs Paykel's Mustard Pickle
In New Zealand the names Mustard Pickle, Mixed Pickle, Piccalilli, or Chow Chow seem to be used interchangeably, although Chow Chow is a nineteenth-century American name for a thickened, sweetened mustard pickle, and Piccalilli seems originally to have been an English Mixed pickle, not thickened with flour. This is my favourite recipe. It is called Spicy Green Cauliflower Relish and was contributed to 'The Menorah Cookbook' (1967) by Mrs Carole Paykel, one of the brilliant group of women who compiled the book. The vegetables are cut small, salted and then cooked in a spicy, sweet, thickened mustard sauce. I have halved the recipe, and you could reduce the sugar, or leave it out if you prefer, but do try Mrs Paykel's pickle.
Preparing the ingredients
Peel the cucumbers and scrape out the seeds with a teaspoon and chop them into smallish cubes. Chop the celery and capsicum and peel and chop the onions. Chop the cauliflower into little florets. Try to have all the pieces a similar size and fairly small.You should have about 3 cups of cauliflowerettes, 2 cups of cucumber, 2 1/2 cups of onions and 1 1/2 cups of celery.
Put them in a large bowl, mix through the salt, cover the bowl and leave overnight
Getting ready
Wash pickle jars and their lids in hot water, rinse them and put them in the oven set to 250 °F /120 °C for about 30 minutes to drain and dry.
Making the pickle
Measure half of the vinegar into saucepan with the mustard seeds, fennel seed and sugar. Stir over a gentle heat until the sugar dissolves, then bring it just to the boil, remove from the heat, cover and stand for 15 minutes. Strain out the seeds and keep the syrup.
Blend together the flour, dry mustard and turmeric and mix to a smooth paste with the other half of the vinegar. Then gradually add the hot syrup and pour the mixture into the preserving pan.
Drain, rinse and drain the vegetables and add them to the pan. Bring the mixture slowly to a simmer, stirring constantly. Cook gently for 15 minutes until the mixture has thickened and the vegetables are slightly cooked, but still with a bit of crunch. Be careful not to stop stirring or the flour may burn. I use a silicone spatula to stir and to scrape down any bits that migrate up the sides of the pan.
Ladle into sterilised jars and seal. Makes 4 1/2 cups / 1.2 litres