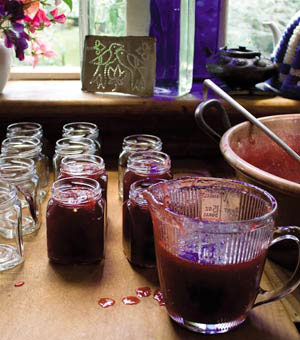 This recipe comes from my book:
Ladies a Plate
If you would like more recipes like it, you can buy the book at the bookshop
Switch to Metric
Switch to Imperial
Ingredients
700 g strawberries
900 g rhubarb
1¼ kg caster sugar
1½ lb strawberries
2 lb rhubarb
2¾ lb caster sugar
Rhubarb and Strawberry Spoon Jam
Another jam from Aunt Daisy and a five-star favourite with our family. I have called it a spoon jam because it doesn't set firmly, since rhubarb and strawberries are low in pectin. It can be eaten as a dessert with yoghurt in the Middle Eastern manner just as successfully as with bread and butter or scones. If you call it a spoon jam, no one can accuse you of not getting a good set and I prefer softer jams anyway. The method is straightforward. You cut up the fruit, cover it with the sugar and leave it overnight so that the juice runs out of the strawberries, then boil everything up the next day. This means that you are not adding any water to the fruit and the jam cooks very quickly.
Preparing the fruit
Hull the strawberries, trim the rhubarb and cut everything into similar-sized, smallish pieces.
Put the fruit into a large bowl, add the sugar, cover and leave overnight on the bench to allow the juice to run.
Getting ready
The next day, heat the oven to 300 °F/150 °C, wash about 6 jam jars in hot water, rinse them and put them to drain and dry in the oven. Put a couple of small saucers into the freezer - you'll use them to test the jam for setting.
Making the jam
Put everything into a preserving pan, place over a gentle heat and bring to the boil, stirring.
Watch the jam closely and stir occasionally with a wooden spoon.
Start testing for a set after 15 minutes. To do this, put a drop of jam onto one of your chilled saucers, wait about 15 seconds, then push a finger gently through it. When the surface wrinkles slightly in front of your finger the jam is ready, but the wrinkling will not be as definite as with a higher-pectin jam like Plum and Blackcurrant.
Turn off the heat, remove the jars from the oven, put them on a board.
Skim any froth from the top of the jam or drop in about a teaspoon of butter; as it melts, it magically makes the froth disappear. Ladle the jam into a heatproof jug and pour into the jars. Cover the jars immediately and try not to move them until the jam is cold and set.
Label and store in a cool, dark place. Makes about 6 x 400 ml jars (4 pints/2.4 litres).