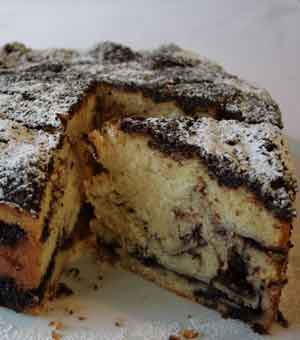 Switch to Metric
Switch to Imperial
Ingredients
150g butter
200g caster sugar
3 eggs
1 tsp vanilla essence
275g flour
2 tsp baking powder
340ml milk
Filling and Topping
2 tbsp cocoa
50g brown sugar
50g caster sugar
20g coconut
55g butter
2 bananas
5½ oz butter
1 cup caster sugar
3 eggs
1 tsp vanilla essence
2¼ cups flour
2 tsp baking powder
1½ cups milk
Filling and Topping
2 tbsp cocoa
¼ cup brown sugar
¼ cup caster sugar
¼ cup coconut
2 oz butter
2 bananas
Banana Chocolate Fudge Cake
This cake was an Auckland Art Gallery special, made by Janine Law who ran the Art Gallery Café in the late 1980s and she kindly gave me the recipe. It is a large and lovely cake with a fudgy banana/chocolate/coconut filling baked into it. A significant step-up from a basic banana cake, I feel.
Getting ready
Preheat the oven to 350°F / 180°C. Bring the butter, eggs and milk to room temperature. Butter an 8 inch / 20cm deep round tin with butter - a spring-form tin is good if you have one - and line the base with baking paper.
Combine the cocoa, sugars and coconut for the filling in a small bowl and melt the butter.
Mixing and baking
Cream the butter and sugar until light and fluffy. Beat in the vanilla essence and the eggs, one at a time.
Sift together the flour and baking powder and add them to the mixture in three lots, alternating with the milk.
Spoon about 1/3 of the mixture into the prepared tin. (I usually weigh the mixture and work out 1/3 with my trusty kitchen calculator - but you can do it by eye, it won't matter much.)
Sprinkle on 1/3 of the dry filling ingredients, followed by one of the bananas, sliced, and half of the melted butter, sprinkled over. Repeat this process, then put on the last 1/3 of the cake and sprinkle with the last of the dry filling.
Bake for about an hour. Set the timer for 30 minutes to remind you to rotate the tin and don't forget to reset it for another 25 minutes. When it is cooked the cake will still be soft in the centre, so the skewer test won't work, but it should smell cooked and be shrinking slightly from the sides of the tin.
Cool on a rack for at least 15 minutes to allow it to firm up - and then turn out very carefully, remove the paper and use another rack to turn it right way up.
Sift icing sugar over the cake before serving it. Store airtight.