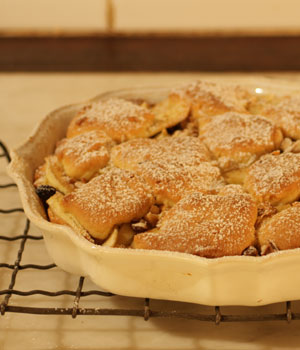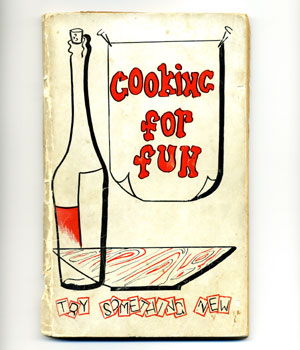 Switch to Metric
Switch to Imperial
Ingredients
340 g cooking apples
55g sultanas
4 tsp brown sugar
1 tsp ground ginger
25 g chopped nuts (almonds or roasted hazelnuts)
115 g butter
115 g sugar
1 egg
225 g flour
1 tsp baking powder
¼ tsp salt
12 oz cooking apples
2 oz sultanas
4 tsp brown sugar
1 tsp ground ginger
1 oz chopped nuts (almonds or roasted hazelnuts)
4 oz butter
4 oz sugar
1 egg
8 oz flour
1 tsp baking powder
¼ tsp salt
Biba's Aeblekage
Tokoroa was a thriving timber industry town in the 1950s and the workers it attracted from Europe and Scandinavia brought their cooking traditions with them. Shirley Dunphy contributed her Danish friend Biba's recipe for this quickly-made and delicious apple cake to 1963 Tokoroa community recipe book, 'Cooking for Fun'. It can be eaten either as a pudding or with coffee or tea; you melt the butter for the shortcake (no creaming); a couple of apples are quickly sliced and the inclusion of a little ginger and a few nuts - I used roasted hazelnuts - is particularly good. The finished cake is dryish rather than squidgy, and very tender. It's a winner.
Getting ready
Preheat the oven to 375º F / 190º C and grease an 8 - 9 inch / 20 - 23 cm shallow tin or baking dish. Sift the flour, baking powder and salt together.
Mixing and Baking
Peel, core and slice the apples thinly and mix them with the sultanas, brown sugar, ginger and chopped nuts.
Melt the butter and pour it onto the sugar, mixing well with a whisk. Add the egg and beat lightly.
Now add the sifted dry ingredients and mix to combine, using a wooden spoon. It will be a fairly stiff mixture.
Spread about two thirds of the shortcake mixture evenly in the prepared tin, and heap on the sliced apples.
Now put dessertspoonfuls of the remaining mixture on top of the apples. It won't cover completely, but this doesn't matter.
Bake for about 40 minutes until well browned. Serve warm or cold with whipped cream. Serves 8.