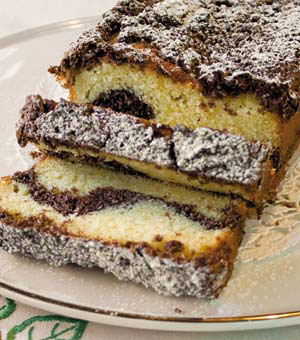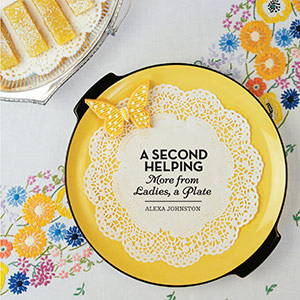 This recipe comes from my book:
A Second Helping
If you would like more recipes like it, you can buy the book at the bookshop
Switch to Metric
Switch to Imperial
Ingredients
For the cake
85 g butter
115 g sugar
1 tsp lemon zest*
½ tsp vanilla essence
2 egg yolks
170 g self-raising flour**
225 ml milk
2 tsp jam
* finely grated
** or use plain flour and 1½ tsp baking powder
For the chocaroon layer
2 egg whites
30 g sugar
40 g desiccated coconut
1 tbsp cocoa
icing sugar, for dusting
For the cake
3 oz butter
4 oz sugar
1 tsp lemon zest*
½ tsp vanilla essence
2 egg yolks
6 oz self-raising flour**
1 cup milk
2 tsp jam
* finely grated
** or use plain flour and 1½ tsp baking powder
For the chocaroon layer
2 egg whites
2 tbsp sugar
½ cup desiccated coconut
1 tbsp cocoa
icing sugar, for dusting
Chocaroon Cake
One of my favourite community cookbooks, simply called Our Recipe Book, was published in December 1967 by the Karitane Public Hall Building Committee. It has an interesting selection of recipes and as soon as I saw this one with its promising name and its baked-in filling and topping I knew I had to try it. At the end of the recipe Mrs L. Stewart, who contributed it to the book, noted: 'This recipe won $10 in a recipe contest.' More than 40 years ago $10 was a much more significant amount than it seems today, and the cake is so pretty and delicious it certainly deserved its prize.
Getting ready
Preheat the oven to 350°F/180°C. Lightly grease a medium-sized (8½ x 4½ in/22 x 11 cm) loaf tin and line the bottom with a rectangle of baking paper. Bring the butter, eggs and milk to room temperature. Sift the flour, with the baking powder if using it.
Mixing and baking
Make the Chocaroon mixture first. Whisk the egg whites until stiff, then gradually beat in the sugar. Fold in the coconut and the sifted cocoa. Set aside.
Cream the butter and sugar until soft and light, then beat in the lemon zest and vanilla. Add the egg yolks and beat well. Fold in the flour alternately with the milk to make a soft batter.
Spoon half the mixture into the prepared tin, followed by half the Chocaroon mixture, spread out as evenly as possible. Top with the remaining cake mixture and spread this lightly with the jam. (The jam just helps the topping adhere to the cake, so it needn't be a thick layer.) Top with the remaining Chocaroon mixture.
Bake for 45–50 minutes or until the cake is pulling away from the sides of the tin. Cool in the tin, then turn out very carefully. A paper towel on top of the cake when you turn it out will contain any loose coconut. Sift a little icing sugar over before serving the cake in neat slices.