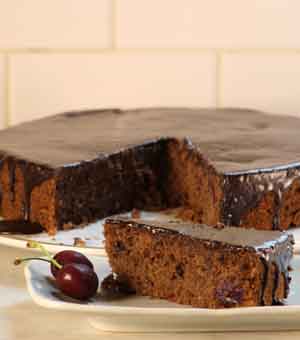 Switch to Metric
Switch to Imperial
Ingredients
200 g finely ground hazelnuts
200 g fresh red cherries
100g dark chocolate
250 g butter
180 g sugar
1 tsp vanilla essence
5 eggs
250 ml red wine (Shiraz is good)
125 g plain flour
1 ½ tsp baking powder
1 ½ tsp cinnamon
1 tbsp cocoa
For the chocolate glaze
120 g icing sugar
2 tbsp cocoa
1-2 tbsp red wine
7 oz finely ground hazelnuts
7 oz fresh red cherries
3 ½ oz dark chocolate
9 oz butter
6 ½ oz sugar
1 tsp vanilla essence
5 eggs
1 cup red wine (Shiraz is good)
4 ½ oz plain flour
1 ½ tsp baking powder
1 ½ tsp cinnamon
1 tbsp cocoa
For the chocolate glaze
1 cup icing sugar
2 tbsp cocoa
1-2 tbsp red wine
Chocolate, Red Wine and Cherry Cake
I had never heard of using red wine in a cake, but it seems that a chocolate cake with red wine in the mix is a well-known German recipe. This version, however, which was sent to me by Roger Blackley, includes toasted ground hazelnuts as well as chopped chocolate and fresh cherries. The hazelnuts make the cake particularly tender, the combination of chocolate and fresh cherries is a classic, the red wine provides background warmth and the final result is an absolutely wonderful, festive treat. The cake cuts beautifully and keeps for several days. Annika Sippel gave Roger the recipe and said it was a family favourite - I can see why. Do try it.
Getting ready
Put the ground hazelnuts into a heavy frying pan over a medium heat and stir them constantly for 2-3 minutes until the nuts darken slightly and smell toasted. Pour them onto a plate to cool. Chop the dark chocolate into small pieces. Pit and halve the cherries and set aside. Preheat the oven to 350 degrees F/ 180 degrees C. Butter a 10 inch / 25 cm round tin and line the base with baking paper.
Mixing and baking
Cream the butter and sugar until light and fluffy and then beat in the vanilla essence.
Beat in the eggs one at a time. Don't worry if the mixture curdles a little.
Combine the cooled hazelnuts, chocolate and all the other dry ingredients in a bowl. Add a spoonful to the creamed mixture and fold in gently, followed by a slosh of the red wine.
Continue folding in dry ingredients alternately with red wine until you have a smooth, voluminous mixture, pour it into the prepared tin and smooth the top.
Now arrange the halved cherries evenly around the top of the cake. They will sink into the cake slightly as it cooks.
Bake the cake for an hour, rotating it after thirty minutes to ensure that it cooks evenly. When the cake is cooked it will have pulled slightly away from the tin at the edges and the top will spring back when you press it gently. Cool in the tin for about 10 minutes and then turn out onto a rack to finish cooling.
Finishing the cake
Move the cooled cake carefully onto a serving plate. You will be icing the base of the cake, not the top.
Make the glaze by sifting the icing sugar and cocoa into a small saucepan, Add the red wine gradually and mix to a fasirly stiff paste.
Now heat the icing gently, stirring all the time until it becomes a fairly liquid, pourable consistency. Pour it quickly over the cooled cake and nudge over the edges with a spatula so it dribbles down the sides of the cake a little. The glaze will become firm as soon as it cools, so work fast.
Serve in wedges with some fresh cherries.