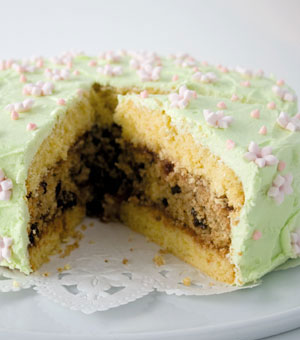 This recipe comes from my book:
Ladies a Plate
If you would like more recipes like it, you can buy the book at the bookshop
Switch to Metric
Switch to Imperial
Ingredients
For the cake
140g butter
150g caster sugar
1 tsp vanilla essence
2 eggs
250g flour
1 tsp baking soda
2 tsp cream of tartar
170 ml milk
120 g mixed fruit *
2 tsp mixed spice
* sultanas, currants, raisins, chopped peel
For the icing and filling
115 g butter
240 g icing sugar
2 tbsp milk
4 tbsp Damson Jelly **
** or Redcurrant Jelly or any smooth, tart jam
For the cake
5 oz butter
¾ cup caster sugar
1 tsp vanilla essence
2 eggs
2 cups flour
1 tsp baking soda
2 tsp cream of tartar
¾ cup milk
1 cup mixed fruit *
2 tsp mixed spice
* sultanas, currants, raisins, chopped peel
For the icing and filling
4 oz butter
2 cups icing sugar
2 tbsp milk
4 tbsp Damson Jelly **
** or Redcurrant Jelly or any smooth, tart jam
Dolly Varden Cake
A key character in Charles Dickens' novel Barnaby Rudge, which began appearing in instalments in 1841, Dolly Varden was a pretty, coquettish young woman, 'the very pink and pattern of good looks', whose dark eyes and rosy cheeks could outshine even 'a jolly round of beef, a ham of the first magnitude, and sundry towers of buttered Yorkshire cake, piled slice upon slice in most alluring order'. Dickens' American readers memorialised Dolly's charms by naming a colourful spotted fabric and a green and pink spotted trout after her. In New Zealand and Australia she got a cake. The main point of the cake is the contrasting coloured layers, two plain and the central one flavoured with spice and enriched with dried fruit. The layers should be cooked separately, then put together with jam and iced. Its stratified structure, and the fruit-studded central layer could qualify it for the great author's unenthusiastic description of 'a highly geological, home-made cake' that was served to Tom Pinch by the two Miss Pecksniffs in Martin Chuzzlewit. Stick with Dolly and keep the outside pretty - ice the cake with green icing and pink spots.
Getting ready
Soften the butter and bring the eggs to room temperature. Preheat the oven to 350 °F/180 °C and grease and flour three shallow round tins, about 8 in/20 cm in diameter.
Mixing and baking
Cream the butter, sugar and vanilla essence until light and fluffy. Beat the eggs lightly with a fork and add a little at a time.
Sift together the flour, baking soda and cream of tartar and fold them into the mixture alternately with the milk.
Take out one third of the mixture - weighing helps to get this right - and mix in the fruit and spice.
Divide the plain mixture between two of the tins and put the spicy one into the third. They are not thick layers.
Bake for 15–20 minutes, until the cakes are shrinking away from the sides of the tins.
Cool slightly then turn them out to finish cooling on a wire rack.
Finishing
Stick the cakes together with the Damson Jelly, putting the darker layer in the centre.
Make the icing by beating the softened butter with the sifted icing sugar and milk until soft and creamy. Flavour with vanilla essence or lemon juice.
Take out about 2 tbsp of the icing, colour it a rosy pink and put it into a paper forcing bag.
Colour the remainder pale green and spread it over the top and sides of the cake.
Pipe on the pink dots in whatever pattern takes your fancy.
Flower Tip
The small flowers on top of this cake are made from fondant icing. I buy this at the supermarket, tint a small amount to the colour I want, roll it out thinly, cut out the flowers using a small cutter and leave them to dry. Stored airtight they keep for months.