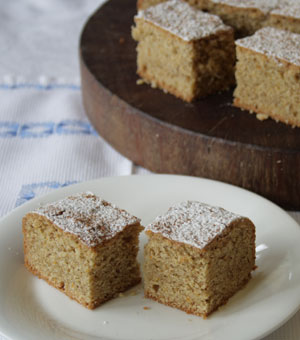 Switch to Metric
Switch to Imperial
Ingredients
200 g caster sugar
125 ml olive oil*
60 ml rum or brandy
½ tsp cinnamon
½ tsp mixed spice
75 g walnuts*
2 oranges**
300 g self-raising flour
Icing sugar and cinnamon - for dusting
1 cup caster sugar
½ cup olive oil
¼ cup rum or brandy
½ tsp cinnamon
½ tsp mixed spice
¾ cup walnuts*
2 oranges**
2½ cups self-raising flour
Icing sugar and cinnamon - for dusting
Fasting Cake (Nistisimo Kek)
I found this simply-made cake in Favourite Greek Recipes - a delightful book put together by the Greek Orthodox Community of Wellington. The compilers have included a list of dishes for Lent made without eggs, meat or dairy products, but the olive oil, walnuts, brandy, spices and orange in this recipe ensure a delicious result which you could happily enjoy in any season. It is a plain cake, rather than a fancy one, but the flavours combine wonderfully and are even better the day after the cake is made, it has a very pleasant nutty texture and it will stay moist for at least a week in an airtight tin.
Getting ready
Preheat the oven to 350º F/ 180º C. Grease an 8 inch / 20 cm square tin with a thin film of olive oil, and line the base and two sides of the tin with a strip of baking paper. Grind the walnuts to a coarse powder in a food processor, grate the zest from the oranges and squeeze out the juice. Sift the flour into a large bowl.
Mixing and Baking
Put the sugar, spices and orange zest into a medium sized bowl. Add the olive oil, rum or brandy and the orange juice and whisk everything vigorously together. (The idea is that the sugar should dissolve in the liquids and you may not quite achieve this, but you do need a smooth, well combined mixture.)
Pour the mixture onto the flour, fold everything together with a wooden spoon and lastly stir in the ground walnuts.
Spoon the cake mixture into the prepared tin, smooth the top and bake for 35 - 40 minutes until the cake springs back when touched lightly in the centre and the sides are shrinking away from the tin. Rotate the cake after 20 minutes to ensure that it browns evenly.
Remove the cake from the oven and put the tin onto a cooling rack. After 10 minutes turn the cake out onto the cooling rack, then turn it over carefully using a second rack. Sift the top thickly with icing sugar while it is still warm and follow with a sprinkling of cinnamon. Leave until quite cool before cutting. Store airtight.