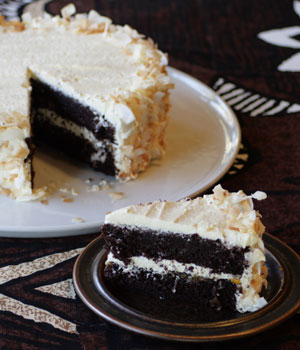 Switch to Metric
Switch to Imperial
Ingredients
210 g flour
55 g cocoa
2 tsp baking powder
½ tsp baking soda
200 g sugar
2 eggs
125 g melted butter
400 ml tin coconut cream
1 tsp vanilla essence
Icing
170 g butter
300 g icing sugar
3 tbsp coconut cream
20 g desiccated coconut
1 cup flaked or shredded coconut
1¾ cups flour
½ cup cocoa
2 tsp baking powder
½ tsp baking soda
1 cup sugar
2 eggs
4 oz melted butter
1 tin coconut cream
1 tsp vanilla essence
Icing
6 oz butter
2½ cups icing sugar
3 tbsp coconut cream
¼ cup desiccated coconut
1 cup flaked or shredded coconut
Fijian Chocolate Cake
This is a tender, dark and flavoursome cake which is extremely fast and easy to make. It includes a tin of coconut cream - hence the Fijian name - and the method of making involves adding the wet ingredients to the dry ones and mixing vigorously for a couple of minutes. It cuts into neat slices - even after the addition of a creamy butter icing flavoured with some of the coconut cream. Frances Campbell contributed the recipe to the 2009 Tokoroa District Lions Community Cook Book . To buy a copy send $20 to Janice Mair at 41 Edward Street, Tokoroa, 3420. ($15 for the book and $5 for postage and packaging.) Proceeds from the sale of this attractive and reliable cook book go to the Tokoroa Community Hospice.
Getting ready
Preheat the oven to 350º F / 180º C. Grease an 8 in / 20 cm round tin and line the bse with a circle of baking paper. Bring the eggs to room temperature. Open the tin of coconut cream and remove 3 tbsp to flavour the icing. Fill the tin again with 3 tbsp of milk.
Mixing and baking
Sift the dry ingredients into a large mixing bowl and add the sugar.
Beat the eggs lightly, add the melted butter, coconut cream and vanilla and pour this onto the dry ingredients.
Beat with a wooden spoon for about a minute until smooth and well combined, pour into the tin and bake for 45 - 55 minutes.
The cake should be well risen and will spring back when you press the centre gently with your finger. Remove from the oven and cool for 5 minutes before turning out onto a rack to cool.
Finishing
Toast the shredded or flaked coconut in a dry frying pan over a gentle heat until lightly golden Stir all the time to stop it from burning. Set aside to cool.
Beat the softened butter until it is fluffy and white, add the coconut cream and half the sifted icing sugar and beat again. Add the rest of the icing sugar gradually and lastly fold in the desiccated coconut. Add a squeeze of lemon juice if the icing seems a little too sweet.
Level the top of the cake and split it into two layers with a long, serrated knife. Put the lower layer on a cake plate and slide four strips of paper under the edges of it to keep the plate free of icing. Spread the cake with a few tablespoons of jam if you wish, followed by a layer of icing before replacing the top of the cake. Spread the remainder of the icing over the top and sides and press the toasted coconut around the sides and just onto the top.
Remove the strips of paper and, once the icing has set a little, the cake is ready to slice and eat! Stored airtight it will stay fresh for about three days.