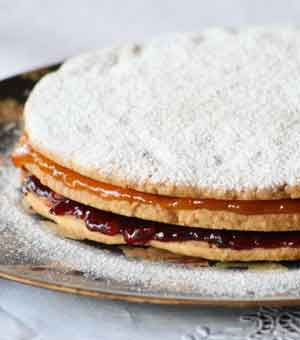 Switch to Metric
Switch to Imperial
Ingredients
For the pastry
200 g flour
115 g caster sugar
115 g ground walnuts
200 g butter
1 egg
For the filling
1 cup apricot jam
icing sugar
For the pastry
7 oz flour
4 oz caster sugar
4 oz ground walnuts
7 oz butter
1 egg
For the filling
1 cup apricot jam
icing sugar
Hungarian Jam Cake
Three layers of rich sweet walnut pastry are baked separately, then formed into a shallow cake with home-made jam between the layers. This is a very elegant cake, a little like a sophisticated jam tart. Apricot jam is traditional, but for this one I used plum and raspberry jam as well. I enjoy the simplicity of this recipe which is quietly celebratory and a change from toweringly rich and moist layer cakes. Good jams, made with fresh fruit and with care deserve a place in the spotlight and this is it. Serve in slices after dinner, or with tea or coffee any time.
Getting ready
Preheat the oven to 375º F/ 180º C. Cut out three pieces of baking paper and draw an 8 in / 20 cm circle on each, using a plate or a cake tin as a pattern. Turn them over so that the pencil line is underneath. Have the butter at room temperature.
Mixing and baking
Put all the pastry ingredients into a large bowl and mix to form a soft dough. Scrape the dough onto a floured board and shape it into a ball. Now weigh the ball of dough and divide it into three equal parts.
Place a ball of dough on one of the pieces of baking paper and push the dough out to meet the pencil circle as evenly as you can. Use floured fingers or a floured rolling pin. Repeat with the other pieces of dough.
Slide the pieces of paper with the circles of dough carefully onto two baking sheets and bake them for about 18-20 minutes rotating the trays after 10 minutes.
When the pastry is pale golden and smelling cooked, remove the pieces carefully to a cooling rack. After a few minutes slide the baking paper out from underneath and leave the pastry to cool completely. Store airtight until you are ready to serve it.
Finishing
About an hour before you plan to serve the cake, spread two of the layers with jam, about ½ cup on each layer, taking it right to the edge. Stack one layer carefully onto the other and place the last circle of pastry on the top. Dust with icing sugar. Set aside for at least an hour so that the pastry will soften slightly and then serve in small slices.