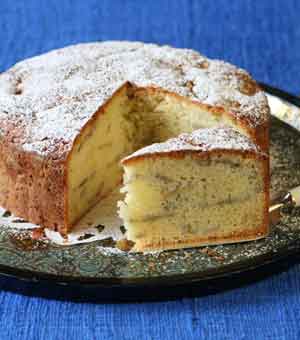 Switch to Metric
Switch to Imperial
Ingredients
115 g butter
115 g caster sugar
2 eggs
pinch salt
5 tbsp yoghurt
2 tbsp rosewater
2 bananas
225 g self-raising flour
½ tsp baking soda
25 g ground or finely chopped almonds
Icing sugar for dusting
4 oz butter
4 oz caster sugar
2 eggs
pinch salt
5 tbsp yoghurt
2 tbsp rosewater
2 bananas
8 oz self-raising flour
½ tsp baking soda
1 oz ground or finely chopped almonds
Icing sugar for dusting
Lebanese Banana Cake
From The Yoghurt Book: Food of the Gods (1983) by Arto der Haroutunian. This is an unusual cake since the bananas are sliced rather than mashed, the cake is flavoured with rose water, and it includes ground almonds which ensure a light texture. It looks pale and pretty and it smells and tastes very good, so you shouldn't have any difficulty in eating it while it is fresh, but it will keep for 2-3 days in an airtight tin.
Getting ready
Butter and flour a 7-7½ in / 17-18 cm round tin and line the base with a circle of baking paper. Soften the butter. Put the eggs and salt into a small bowl and combine use a fork to combine them.
Mixing and baking
Cream the butter and sugar until light and fluffy and then add the beaten eggs a little at a time, beating well.
Beat in the yoghurt and the rosewater and then gently stir in the thinly-sliced bananas.
Sift on the flour and baking soda, fold them through gently and lastly add the almonds.
Spoon the mixture into the prepared tin and set aside for 30 minutes.
Preheat the oven to 350ºF/180 ºC and bake the cake for 50-60 minutes or until a thin skewer inserted into the centre comes out clean.
Cool on a rack and dust with icing sugar before serving - perhaps with a little more yoghurt.