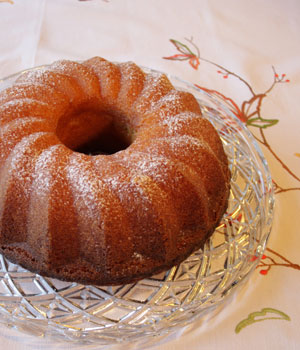 Switch to Metric
Switch to Imperial
Ingredients
2 lemons
250 ml oil (I use rice bran oil)
2 eggs
350 g sugar
½ tsp salt
250 ml yoghurt
250g self-raising flour
2 lemons
1 cup oil (I use rice bran oil)
2 eggs
1¾ cups sugar
½ tsp salt
1 cup yoghurt
2 cups self-raising flour
Lemon Yoghurt Cake
There are many versions of Greek, Turkish and Armenian cakes made with yoghurt, and often with oil, since butter is used less in those cuisines. This one seems to have evolved in the 1980s when easy-mix cakes (no creaming of butter and sugar) were becoming popular here, since it appears in many New Zealand recipe books. It has become something of a classic and so when Shirley Dunphy contributed it to the 2009 Tokoroa District Lions Community Cook Book she was implementing a maxim I have seen printed in several Women's Institutes Cookery Books: 'If you know a good thing, pass it on.' It is a lovely recipe.
Getting ready
Preheat the oven to 350º F / 180º C and butter and flour an 8-cup ring tin. (Check the size by filling it with cups of water before you begin.) Bring the eggs to room temperature. Finely grate the zest from the lemons and squeeze out the juice.
Mixing and baking
Put the lemon zest into a large bowl. Add the oil, eggs and sugar and beat with a rotary beater or whisk until the mixture is thick and well blended.
Add the salt, yoghurt (use the same measuring cup as you did for the oil), and 3 tbsp of lemon juice. Beat again, briefly.
Now fold in the sifted flour, using a metal spoon, and pour the mixture into the prepared tin. Bake for 30-40 minutes until the top is golden brown, the cake is shrinking away from the sides of the tin, and the centre springs back when pressed gently.
Put the cake, in its tin, onto a cooling rack for at least 10 minutes before attempting to turn it out. Serve plain, sprinkled with a little icing sugar.