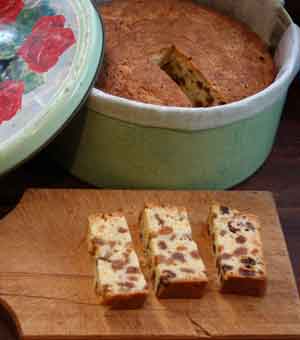 Switch to Metric
Switch to Imperial
Ingredients
500 g sultanas
50 g mixed peel
250 g butter
340 g sugar
340 g flour
1 tsp baking powder
1 tsp almond essence
1 tsp vanilla essence
1 tsp grated lemon zest
3 eggs
1 lb 2 oz sultanas
2 oz mixed peel
9 oz butter
12 oz sugar
12 oz flour
1 tsp baking powder
1 tsp almond essence
1 tsp vanilla essence
1 tsp grated lemon zest
3 eggs
Simple Sultana Cake
This is an absolutely delicious cake which cuts into extremely neat slices. It is also very quickly mixed and keeps well. The recipe came from Bert Oomen, who made it regularly for his son-in-law Peter Hillary to take on expeditions, so it travels well, too. (Peter obviously inherited his father Ed Hillary's love of fruitcake.) Bert's daughter Yvonne Oomen gave out copies of the recipe at Bert's funeral in 2007, and it has become a favourite with our family.
Getting ready
Preheat the oven to 300°F/150°C and line an 8in / 20cm deep baking tin with baking paper. Melt the butter gently and beat the eggs with a fork until liquid.
Mixing and baking
Put the sultanas and peel in a saucepan and barely cover with water. Bring to the boil and simmer gently for 5 minutes. Drain off the water, leaving a few drops.
While the fruit is hot, tip on the melted butter and mix well, then add the essences and the lemon zest.
Make sure everything is well combined before adding the beaten eggs and lastly the sifted flour and baking powder. Mix well.
Scoop into the prepared tin, level the top and bake for 1½ to 2 hours. Yvonne notes that Bert used fan bake for the first 50 minutes and then switched to ordinary bake for another 50 minutes and that works with my oven.
When the cake is cooked, cover it with aluminium foil and a towel and leave to cool slowly for 4 - 5 hours. This helps to keep the cake moist. Store airtight.