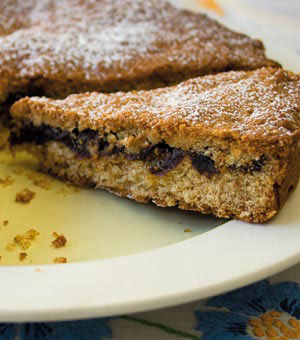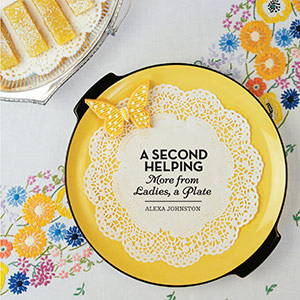 This recipe comes from my book:
A Second Helping
If you would like more recipes like it, you can buy the book at the bookshop
Switch to Metric
Switch to Imperial
Ingredients
115 g butter
115 g sugar
25 g golden syrup
1 egg
150 g wholemeal flour
3/4 tsp baking powder
pinch salt
120 g dates chopped
6 tbsp water
½ tsp vanilla essence
4 oz butter
4 oz sugar
1 tbsp golden syrup
1 egg
1 cup* wholemeal flour
1 tsp** baking powder
pinch salt
1 cup dates chopped
6 tbsp water
½ tsp vanilla essence
Sister Blake's Cake
This is another of the 16 recipes that Shirley Dunphy contributed to the 1963 Tokoroa fundraising recipe book, Cooking for Fun. (The Chocolate Caramel Fingers in Ladies, a Plate were also hers.) Sister Blake was the nursing sister who set up a maternity service for Tokoroa in the 1950s with the help of Sister Bell and Shirley, a young nurse at the time. Tokoroa was then a busy timber town, bursting with young families, and the dedication and hard work of these three women ensured that its new mothers were well cared for - in the three small suburban houses which were made available to them. Sister Blake's Cake is a simple wholemeal shortcake with a smooth date filling which has real charm and keeps getting better every time you cut a piece.
Getting ready
Preheat the oven to 350°F/180°C. Grease a shallow 8 in/20 cm round tin and line the base with a piece of baking paper. Bring the butter and egg to room temperature and mix together the flour and baking powder. Simmer the dates for a few minutes with the water until very soft and flavour with the vanilla. Set aside to cool.
Mixing and baking
Cream the butter and sugar until soft and light, then add the golden syrup. Beat in the egg, then mix in the dry ingredients.
Spread half the mixture in the tin, cover with the cooled dates, then put the remaining mixture on top. Spread it out as evenly as you can.
Bake for about 25 minutes, rotating halfway through. It should be well risen and golden brown. Cool on a rack in the tin for at least 15 minutes before turning out carefully Store airtight.