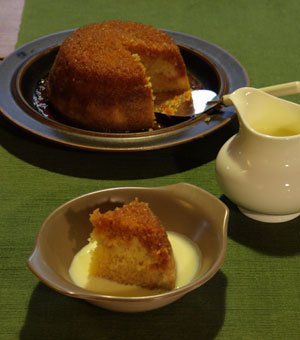 Switch to Metric
Switch to Imperial
Ingredients
115g sugar
2 eggs
115g butter
115g flour
1½ tsp baking powder
pinch salt
45ml milk
¼ tsp vanilla essence*
150g golden syrup
* Add 1 tsp of ground ginger and some chopped crystallised ginger for a change.
4oz sugar
2 eggs
4oz butter
4oz flour
1 big tsp baking powder
pinch salt
3 tbsp milk
¼ tsp vanilla essence*
½ cup golden syrup
* Add 1 tsp of ground ginger and some chopped crystallised ginger for a change.
Golden Syrup Steamed Pudding
This was the most loved pudding of my childhood and my mother didn't make it very often, so it was a special treat. Myra Lawrie's very light recipe is made from equal weights of butter, sugar, eggs and flour. Myra was proud of having worked out that you could mix the whole pudding in the basin, and then quickly tip the golden syrup down the side before you steam it. No dishes!
Getting ready
Grease a 4 cup/1 litre heatproof pudding basin generously, and have a large pot half-filled with simmering water, with a trivet or an upturned saucer in the base of it. Melt the butter.
Mixing and baking
Beat together the sugar and the eggs until fluffy and light. Add the melted butter and beat again, then add the milk, followed by the sifted dry ingredients and the vanilla.
Put the golden syrup into the bottom of the greased bowl and pour in the pudding batter. Cover the pudding with baking paper and aluminium foil, tied down with string. Steam for 1½ hours. Set the timer for 30 minutes to remind you to check the water level. Turn out and serve with custard or cream.
NOTE: If you are a bold cook, try Myra's speedy method. Mix the batter in the greased bowl in which you intend to cook the pudding. Have the golden syrup in a jug, slightly warmed. Take a large serving spoon and pull the batter slightly away from one side of the bowl. Tip the golden syrup quickly down the side and let the mixture fall back over it. Steam as above.