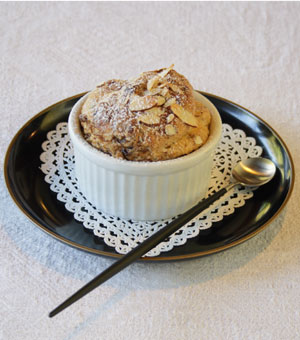 Switch to Metric
Switch to Imperial
Ingredients
10-12 prunes
115 ml orange juice or port
Sugar to taste
A little brandy
2 egg whites
2 tbsp flaked almonds
10-12 prunes
½ cup orange juice or port
Sugar to taste
A little brandy
2 egg whites
2 tbsp flaked almonds
Little Prune Soufflés
A friend gave me this recipe many years ago and I imagined it was his invention, but like most good recipes, it seems to have evolved, rather than being the creation of a single inspired cook. I've since found numerous versions of very light soufflés made by combining a hot fruit purée with some beaten egg whites. I like making these with prunes cooked in wine or orange juice, since the prunes give a slightly festive flavour, but I've seen recipes using prunes and fresh peaches, or apricots. There are two ways of serving them - either hot and well-puffed, straight from the oven, which involves some last-minute kitchen work between main course and dessert; or you can serve them cold. They will lose a little of their height and acquire a firmer texture once they are chilled. You can dollop on some whipped cream, or turn them out of their dishes, pour over some runny cream and serve them forth.
Getting ready
Preheat the oven to 350ºF / 180ºC and butter four small ramekins or soufflé dishes. They should hold just over ½ cup / 150 ml. Before dinner cook the prunes in the orange juice or port until they are very soft. Purée them in a food processor, return to the pot and sweeten to taste. Add some brandy if you like.
Mixing and cooking - between courses
Whip the egg whites until stiff peaks form and quickly fold in the re-heated prune purée. You will see the egg white swell as it heats up.
Quickly pile the fluffy mass into the prepared dishes, sprinkle over the flaked almonds and put them into the oven on a baking tray. After 10 minutes they will be towering above the dishes in approved soufflé fashion and the almonds will be toasted. (Your guests will just have to wait for them - they are worth it.)
Remove the tray from the oven, put the little soufflé dishes onto flat dessert plates, dust them with icing sugar and take them to the table with some whipped cream.