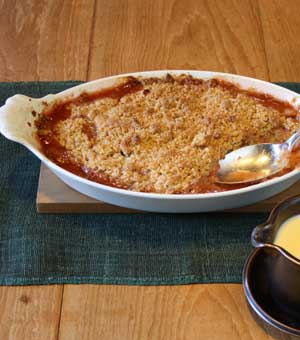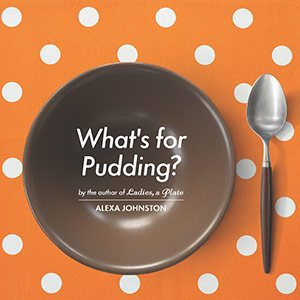 This recipe comes from my book:
What's for Pudding
If you would like more recipes like it, you can buy the book at the bookshop
Switch to Metric
Switch to Imperial
Ingredients
4 cups rhubarb
100g brown sugar
½ tsp ginger
125 g flour
100 g sugar
115 g butter
4 cups rhubarb
½ cup brown sugar
½ tsp ginger
½ cup flour
½ cup sugar
4 oz butter
Rhubarb Crumble
When I asked friends to tell me about their favourite puddings, apple or rhubarb crumble was always on the list. There are many possible crumble toppings - some include rolled oats or nuts or coconut with the sugar and spices; other plainer versions are more like crumbled pastry. Remember that too much flour can make the crumble stodgy and claggy in the mouth rather than a crisp contrast with the soft fruit; too many rolled oats and it can be hard work to eat - balance is what you're after.
Getting ready
Preheat the oven to 375ºF/190 ºC. Butter a shallow baking dish
Making the Pudding
Put the rhubarb into the dish and mix in the sugar and ground ginger.
Blend together the flour, sugar and butter until crumbly - a food processor does this well. You could also add ¼ cup of ground almonds to the crumble mixture if you wish.
Sprinkle a tablespoon of cold water over the crumbs and stir lightly with a fork to create a few slightly larger clumps.
Spread the topping evenly over the fruit and bake for 45 minutes or until the crust is golden brown and the fruit is soft when tested with a fork.
Serve hot with custard. Enough for 4 people. You could try this recipe with chopped apple or a mixture of rhubarb and apples, or chopped feijoas.