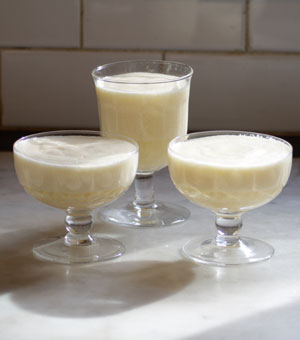 Switch to Metric
Switch to Imperial
Ingredients
225 ml milk
115 ml cream
2 eggs, separated
2 tbsp caster sugar
1½ tsp powdered gelatine
2 tbsp water
1 tsp vanilla
1 tbsp Cointreau (or brandy or rum)
1 cup milk
½ cup cream
2 eggs, separated
2 tbsp caster sugar
1½ tsp powdered gelatine
2 tbsp water
1 tsp vanilla
1 tbsp Cointreau (or brandy or rum)
Spanish Cream
This is a lovely simple pudding which appears in almost every early New Zealand recipe book. It is a silky custard set with gelatine and with beaten egg white folded through so that the custard separates into two layers - one fluffy, one smooth. You can flavour it with anything you like but my favourites are vanilla and Cointreau or finely grated lemon zest.
Getting ready
Make sure that the eggs are at room temperature. Put the water into a small bowl, sprinkle on the gelatine and leave it to swell for a few minutes.
Making the Pudding
Put the milk and cream into a small saucepan and heat gently until the mixture is hot, but not boiling.
Whisk together the egg yolks and the caster sugar until you have a pale and fluffy mixture - about 2 minutes with a hand beater. Pour some of the hot milk onto the egg yolks, still whisking hard, then pour it all back into the saucepan.
Add the soaked gelatine and stir over a very low heat take for 3-4 minutes until the mixture thickens, just slightly. (Don't let it come to the boil or the egg will curdle.) Some people like to use a double boiler for this, but I don't usually bother.
Now put the saucepan into a sink with a few inches of cold water and stir every now and then until the custard is warm, not hot. Stir in the vanilla and Cointreau, or the lemon zest.
Beat the egg whites until stiff, pour on the custard and very gently fold everything together with a metal spoon.
Pour into 4-6 individual glasses, or one pretty bowl. Put in the fridge to set for about an hour.
NOTE: If you want the Spanish Cream to be fluffy all through and not separated into two layers, let the custard cool completely before mixing it with the beaten egg white.