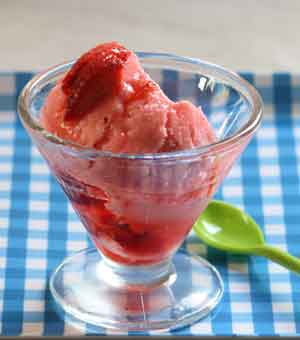 Switch to Metric
Switch to Imperial
Ingredients
For the Sorbet
1 tbsp powdered gelatine
65 ml cold water
225 g strawberries
1 tbsp lemon juice
115 g caster sugar
300 ml yoghurt
2 egg whites
For the Strawberry Syrup
100 g sugar
¼ cup water
1 cup strawberries
¼ tsp vanilla essence
1 tsp rose water
For the Sorbet
1 tbsp powdered gelatine
5 tbsp cold water
8 oz strawberries
1 tbsp lemon juice
4 oz caster sugar
1¼ cup yoghurt
2 egg whites
For the Strawberry Syrup
½ cup sugar
¼ cup water
1 cup strawberries
¼ tsp vanilla essence
1 tsp rose water
Strawberry Sorbet with Strawberry Syrup
From 'Sweets and Desserts from the Middle East' (1984) by Arto der Haroutunian, who describes this unusual yoghurt-based sorbet as an Armenian favourite. The egg white and gelatine give the sorbet an almost marshmallow texture which is complemented perfectly by a clear pink strawberry syrup. I leave the strawberry pieces in the syrup, but the Iranian tradition is to strain them out once the syrup is coloured and flavoured, then mix it with ice and water for a refreshing summer drink. The old Persian name for this kind of fruit drink is 'sharbat' which gives us the words sherbert and sorbet.
Making and freezing the sorbet
Sprinkle the gelatine onto the water in a small bowl and leave to swell.
Puree the strawberries with the lemon juice in a blender or food processor, pour the liquid into a bowl and stir in the sugar and the yoghurt.
Put the bowl with the gelatine into a saucepan of simmering water and leave until the gelatine forms a clear liquid. Add the gelatine to the yoghurt mixture and stir well.
Beat the egg whites until stiff, fold them through the yoghurt mixture and pour it into a shallow dish. Cover and freeze for about 4 hours.
Turn the frozen mixture onto a board; chop it up into blocks and whiz them in the food processor, dropping the blocks down the feed tube onto the blades.
When the mixture has become a pale pink and is very smooth and fluffy, scrape it back into the freezing tray and freeze for another 2-3 hours.
About 20 minutes before serving, move it from the freezer into the refrigerator.
Making the strawberry syrup
Put the sugar and water into a saucepan, stir over a gentle heat until the sugar dissolves then boil hard for about 3 minutes. Drop in the sliced strawberries and let them simmer in the syrup for another 2-3 minutes. Turn off the heat and stir in the vanilla and the rose water. Set aside to cool. Spoon some of the syrup and berries over the sorbet before serving.