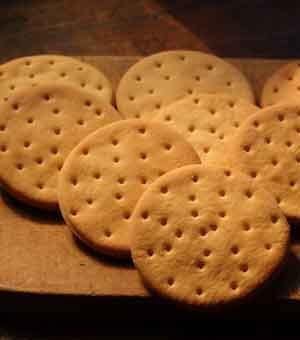 Switch to Metric
Switch to Imperial
Ingredients
2 tbsp warm water
1 tsp dried yeast
50 g butter
150 ml milk
½ tsp salt
12 oz strong white flour
2 tbsp warm water
1 tsp dried yeast
2 oz butter
¼ pint milk
½ tsp salt
12 oz strong white flour
Bath Oliver Biscuits
Bath Oliver Biscuits date from the eighteenth century when the fashionable spa town of Bath was a centre for all good things in England and fertile ground for medical men who specialised in soothing the strained digestions of the wealthy and over-indulgent. When he died in 1749 Dr William Oliver, the famous Bath physician who invented this biscuit, left the recipe, 10 sacks of flour and 100 sovereigns to his coachman, who opened a shop selling the biscuits and made his fortune. Many home-made savoury biscuits are based on pastry and need to be reheated before serving to crisp them up, but these ones keep their crunch if stored in an airtight tin. They are pleasantly crisp and light, very good eaten on their own or with cheese, or butter and jam - and of course they are excellent against indigestion.
Getting ready
Sprinkle the yeast onto the warm water and leave to soften. Heat together the butter, milk and salt until the butter melts, pour into a large mixing bowl and set aside until it is just lukewarm.
Making the dough
Add the yeast to the warm butter and milk with about ½ cup of the flour and mix together until smooth. Cover with a plate and set aside for 10 minutes.
Add the rest of the flour and mix with a wooden spoon, until a soft dough forms. Add a little more warm water if you need to.
Knead the dough until it is smooth, cover with a cloth and leave in a warm place for 15 minutes, or about an hour at room temperature.
Preheat the oven to 325º F / 160º C.
On a floured bench roll the dough into a rectangle about ½ in / 13mm thick.
Fold the bottom third of the dough up, and then the top third down on top of it. Rotate the dough so that the folded edge is on the right side. This is one 'turn'.
Press down all over the surface with the rolling pin, then roll out again and repeat. The 1905 recipe that I use suggests giving the dough 8 or 9 'turns', but I usually stop after 6 turns.
You will find that the dough resists rolling after a couple of turns, and keeps shrinking back, so cover it with a cloth and leave to relax for about 5 minutes before you continue to roll.
Once all the turns are done, rest the dough for another 5 minutes, then roll it out as thinly as you can - no thicker than ¼ in / 7 mm.
Cut into large circles about 3 in / 8 cm diameter and place them on wetted oven trays.
Prick all over with a fork, or I use the blunt end of a bamboo skewer.
Bake for about 25 minutes until golden brown and crisp, rotating the oven trays half way through.
I don't roll out the leftover scraps of dough but cut them into smallish, irregular pieces and bake them with the biscuits, They become almost pretzel-like.
NOTE. These are plain crackers, but if you wish you can brush them with water or milk before baking and sprinkle with a topping of your choice. Try flaky salt, caraway seeds, paprika, chilli powder, grated parmesan cheese - or even sugar.