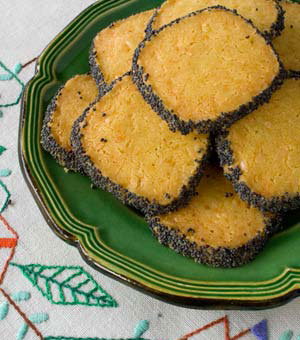 Switch to Metric
Switch to Imperial
Ingredients
115 g butter
80 g grated tasty cheese
15 g grated Parmesan
125 g flour
½ tsp curry powder
½ tsp salt
pinch cayenne pepper
4 oz butter
1 cup grated tasty cheese
¼ cup grated Parmesan
1 cup flour
½ tsp curry powder
½ tsp salt
pinch cayenne pepper
Cheese Busters
A very simple and very moreish cheese biscuit. The dough is a rich mixture and although most recipe books suggest rolling it out, I find that maddeningly difficult, so I make it into a roll and slice it into discs. You can vary the seasoning here to suit yourself, by increasing the cayenne, adding some toasted sesame seeds or omitting the curry powder. If you want the biscuits to look very smart indeed, roll the cylinder of soft dough in poppy seeds before wrapping and refrigerating it. Each golden biscuit will then be attractively bordered with blue-black seeds.
Mixing
Cream the softened butter and cheeses together until soft and very well blended.
Sift on the dry ingredients and mix everything to a fairly soft dough. Divide the dough in two.
With floured hands, form each half into a rough roll, then wrap it in waxed paper and roll it back and forth on the bench until you have a nice even cylinder - or make it straight-sided if you want square or rectangular biscuits. You are aiming for a diameter of about 1¼ in/4 cm.
Chill in the fridge for at least an hour, or you can freeze the cylinders for a few weeks, wrapped in aluminium foil.
Baking
Preheat the oven to 375 °F/190 °C and line two baking trays with baking paper.
Take the dough out of the fridge and slice it into 5 mm discs, turning the roll as you go to keep it in shape.
Lay the biscuits on the prepared trays, fairly close together as they won't spread very much, and bake for about 15 minutes. Rotate the tray after 10 minutes.
Cool the biscuits on wire racks and serve warm or cold. Store airtight. Makes about 40 biscuits.